Ethiopian Airlines expects its capacity to approach pre-crisis levels in 2022 as the carrier emerges from the Covid-19 downturn buoyed by a strong performance from its cargo business.
Speaking during a Dubai Expo event on 11 January, the Star Alliance operator's chief executive Tewolde GebreMariam acknowledged that he "wouldn't say that we will fully recover" this year, but that Ethiopian's capacity is likely to rise from 70% of pre-Covid levels today to "80%, 90% maybe 100%".
That is despite the "very slow recovery" being seen across the airline industry, which he says has been exacerbated by the impact of "scattered and uncoordinated" government responses to the spread of the Omicron variant of Covid-19.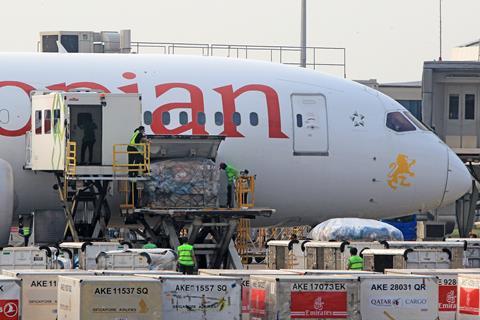 Amid that challenging environment, a "booming" air cargo business has left Ethiopian ahead of many peers in its recovery, GebreMariam claims, particularly in financial terms.
The Addis Ababa-based carrier is "cash-positive and profitable", he states, having "not taken any bailout money".
GebreMariam also says that employees "have been given salary increases and bonuses" at a time when many carriers have focused on reducing their workforces.
"You see clear demarcation between airlines that are well diversified into the cargo business and airlines which didn't have a strong presence in the cargo business pre-Covid", he states.
The coming year might bring "slightly lower" air freight demand than that seen in 2021, GebreMariam observes, "but still enough for airlines that have been diversified into the cargo business such as Ethiopian Airlines".
That is crucial when "the tourism part of travel is not yet recovering as much as expected", he says.
Ethiopian's cargo strategy therefore continues to involve the use of passenger jets for freight-only flying, GebreMariam states, including those temporarily converted into 'preighters'.
The operator has reconfigured around 25 passenger aircraft of various types into freighters during the pandemic, in addition to operating its 10 Boeing 777-200Fs and three 737-800SFs.
Ethiopian Cargo has extended its reach to more than 70 destinations globally, versus 10 pre-pandemic, the airline says.