Ongoing air traffic controller shortages in New York have prompted the Federal Aviation Administration to extend for six weeks a programme intended to reduce flight disruptions at New York and Washington, DC-area airports.
In a 14 August regulatory filing, the agency says the move reflects its continued inability to adequately address a worker-shortage problem that has been more acute at its New York air traffic control (ATC) centre than at such facilities elsewhere.
To head-off ATC-driven flight disruptions, the FAA is now extending until 28 October a waiver programme that enables airlines not to use 10% of operating authorities at four airports: Ronald Reagan Washington National and the New York-area's LaGuardia, John F Kennedy International and Newark Liberty International airports.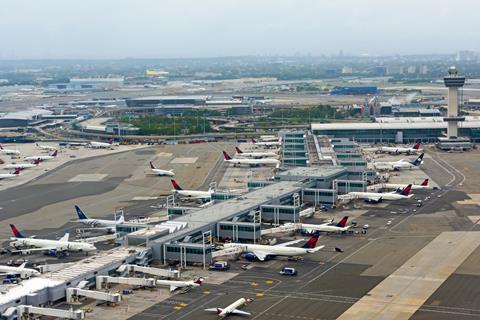 The FAA implemented the programme in March, though its initial action granted the 10% waiver only from 15 May to 15 September.
The extension until 28 October reflects "post-pandemic effects on air traffic controller staffing at the New York Terminal Radar Approach Control facility", known as "N90", the FAA's 14 August notice says. The N90 site manages flights in the Northeast USA.
"Temporary safety mitigations put in place in response to the Covid-19 pandemic impacted controller training. Dedicated training initiatives have been successful in reducing most of the training backlog, with the exception of N90," the FAA's notice adds. "The staffing shortfalls at N90 limit [the] FAA's ability to provide expeditious services to aircraft operators and their passengers that traverse this airspace."
Some US airlines had urged the FAA to extend the waiver. Those included United Airlines, which said it would "be forced to resume operating all slots at [LaGuardia] and return to its full baseline level of operations at [Newark]" should the FAA not issue an extension.
The FAA limits operations at LaGuardia, Kennedy and Washington National through takeoff and landing slots, and withdraws slots that carriers fail to use 80% of the time.
The agency does not issue slots for flights at Newark but manages operations there by requiring airlines submit "schedule requests" to the FAA for approval.
Factors including bad weather and ATC staff shortages caused massive operational disruptions in New York in June, with carriers cancelling 40% of flights at airports on some days.