Breeze Airways, the start-up low-cost airline from aviation entrepreneur David Neeleman, has received its long-awaited air carrier certificate from the Federal Aviation Administration, allowing it to begin passenger revenue operations.
In a Department of Transportation (DOT) filing on 14 May, FAA published the airline's certificate, and its operating procedures and restrictions.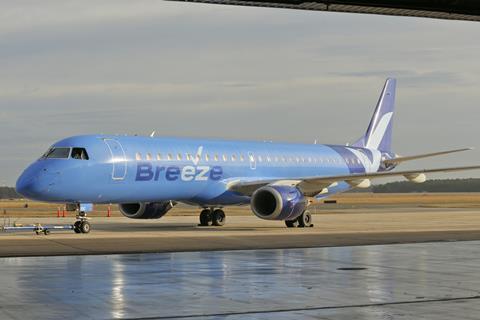 In the document, the airline is authorised to operate Embraer 190s at 33 US airports, including those at numerous cities in the eastern and southeastern USA which had long been suspected to be on Breeze's destination wish list.
These include Orlando, Hartford, Richmond (Virginia), Daytona Beach (Florida), Raleigh/Durham (North Carolina), Jacksonville (Florida), and Providence (Rhode Island).
Three of the airports listed – Tampa, Charleston (South Carolina) and Islip (New York) – are what regulatory documents call "regular" airports for use in Breeze's "scheduled operations".
The FAA classifies others on the list – including major hubs such as Miami, Philadelphia and Washington Dulles International airport – as "refuelling" airports and "alternate" airports, where "aircraft may land if a landing at the intended airport becomes inadvisable".
The Salt Lake City-headquartered carrier has not published a route map or destination list – one of the best kept secrets in the industry – but expects to do so "next week", a spokesperson told FlightGlobal on 13 May.
The airline is expected to operate its first flights within weeks.
Neeleman had told FlightGlobal in March that the new carrier would be operating "rustbelt-to-sunbelt" routes to and from secondary cities with few commercial airline connections, but he was cagey about specifics. The airline's route network has been eagerly awaited by customers and competitors alike, as the US air transport industry rebounds following the 15-month coronavirus crisis.
Breeze had set to launch in mid-April but has been delayed while awaiting FAA approval. The carrier's website remains largely dormant, with a link to advertised jobs but no ability to book flights.
When it launches, Breeze will be the second of two low-cost airlines to begin operations this year. The other is Avelo Airlines, which began operations in April with flights from a base in Burbank, California, in the Los Angeles suburbs, to a network of 11 cities in the western third of the USA.
Breeze plans to operate a fleet of E190s, joined by Airbus A220s beginning in October.
The new airline has drawn criticism due to its plan on hiring university students as part-time flight attendants, as well as below-market cockpit crew pay.