Breeze Airways, the new low-cost airline led by serial aviation entrepreneur David Neeleman, will begin flying next week, spooling up to a network of 39 routes between 16 cities across the eastern half of the USA by July.
The long-awaited launch of Neeleman's fifth airline project will happen on 27 May with a flight from Tampa to Charleston (South Carolina), the carrier says on 21 May. The aircraft will then, on the same day, fly from Charleston to Hartford.
In its start-up phase, Breeze will focus most flights from four airports: Tampa, Charleston, New Orleans, and Norfolk (Virginia).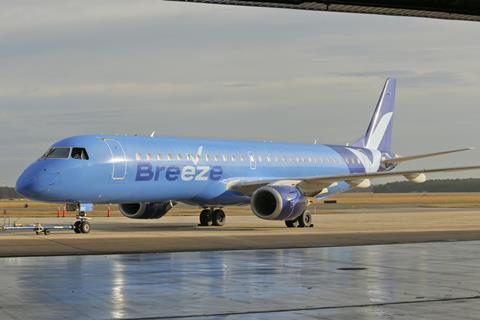 Salt-Lake-City-headquartered Breeze will begin operations with two Embraer 190s configured to seat 108 in a single class. It will expand to 13 aircraft – 10 E190s and three E195s with 118 seats - by summer, the airline says.
"These 16 cities are just the beginning for Breeze," says Neeleman. "The effects of the Covid-19 pandemic on the nation's air service has meant many secondary markets and smaller cities have seen a significant reduction in flights. There are so many city pairs needing nonstop service around the country. We have a further 100 cities under consideration."
Breeze says 95% of its initial routes do not have nonstop competition. Neeleman told FlightGlobal in March that the carrier aimed to connect secondary "Rust Belt-to-Sun-Belt" cities. The initial airline's route map was among the best-kept secrets in the industry.
'NICE' FARES
Neeleman has been marketing his new project as "the world's nicest airline", more than 20 years after creating something similar with JetBlue, and hoping that the travelling public will appreciate the differences in service and conditions, compared to other low-cost carriers.
The airline is selling one-way tickets from $39. Customers can choose between "Nice" and "Nicer" fares. The basic no-frills ticket includes one carry-on item. Additional bags – carry-on or checked – cost $20 each for up to three pieces, and assigned seats begin at $10, Breeze says.
Family members can sit together for no charge, and passengers can bring a pet aboard for $75.
"Nicer" fares include seat assignments, a piece of checked luggage, snacks, an extra-legroom seat and priority boarding.
A third fare choice called "Nicest", and business-class seats, will be added when the airline's Airbus A220-300s join the fleet beginning later in the year. Breeze has 60 of the type on order from the Toulouse-based airframer. Neeleman earlier told FlightGlobal that the airline has another 60 on option.
The Embraer fleet lacks in-flight wireless connectivity due to the short duration of flights, Breeze says, but by the summer the aircraft will have in-flight entertainment (IFE) options. The A220s will have the IFE and wi-fi.
All fares can be cancelled or rebooked without penalty up to 15 minutes before the flight's scheduled departure, Breeze says. Unused funds from changes and cancellations are credited to the passenger's Breeze account in so-called "BreezePoints", and do not expire for 24 months.
ROUTE MAP
Most of Breeze's initial routes will be less than 2h in duration, Breeze says. It will fly as far northeast as Providence (Rhode Island), and as far southwest as San Antonio (Texas).
Other cities in the network include Louisville (Kentucky), Akron/Canton (Ohio), Columbus (Ohio), Pittsburgh, Huntsville (Alabama), Richmond (Virginia), Bentonville/Fayetteville (Arkansas), Tulsa and Oklahoma City (both Oklahoma).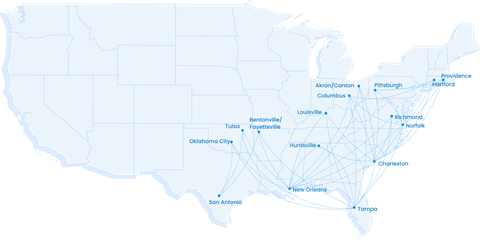 The full Breeze network will be up and running by 22 July, the carrier says.
Breeze will become the second new airline to begin operations in the USA in two months. Avelo Airlines, founded by former Allegiant Air and United Airlines executive Andrew Levy, began flying to 11 cities in the western USA from Los-Angeles-area Hollywood-Burbank airport on 28 April.
Breeze had set to launch in mid-April but was delayed about five weeks while awaiting FAA approval of its air carrier certificate. That approval came on 14 May, which allows the airline to begin passenger revenue operations.
Neeleman, who founded Morris Air – later acquired by Southwest Airlines – Canada's WestJet, JetBlue Airways and Brazil's Azul, has said his ambitions for Breeze extend beyond domestic flights.
Equipped with auxiliary tanks, the A220s could allow the carrier to extend its network to Hawaii, South America or Europe, Neeleman has said.