A vital €9 billion ($10.1 billion) state bailout of Lufthansa is set to be approved at an extraordinary general meeting today after key shareholder Heinz-Hermann Thiele indicated he would support the deal.
Lufthansa had earlier this month said the €9 billion financial support package agreed with the German government to help bridge the coronavirus crisis was in doubt after Thiele, the airline's biggest single shareholder, said he may vote against the plan.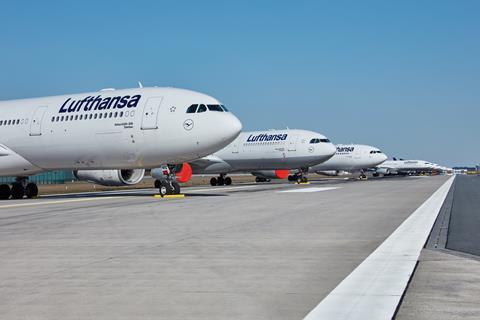 Thiele, who holds more than 15% of the carrier, had criticised "a lack of transparency" in the deal, under which Germany's federal fund WSF is taking a 20% stake in the group.
But in a fresh interview with Frankfurter Allgemeine Zeitung - the same paper in which he had originally flagged his objections - Thiele indicated he will vote for the financial support plan rather than risk the carrier entering bankruptcy.
"There are still different positions with the government representatives," Thiele tells the paper, noting his doubts have not been resolved. But he adds: "It is in the interest of all Lufthansa employees that management can conduct swift negotiations with the unions about the necessary restructuring."
Lufthansa had warned that without Thiele's support the stabilisation package could fail to achieve the necessary two-thirds majority of votes cast and that it would have to possibly apply for protective shield proceedings under insolvency if no other solution is found immediately.
The European Commission has today approved German plans to contribute €6 billion to the recapitalisation of Lufthansa under its temporarily eased state aid rules.
Executive vice-president Margrethe Vestager, in charge of competition policy, says: "This substantial amount of aid will help Lufthansa weather the current coronavirus crisis, which has hit the airline sector particularly hard. But it comes with strings attached, including to ensure the state is sufficiently remunerated, and further measures to limit distortions of competition.
"In particular, Lufthansa has committed to make available slots and additional assets at its Frankfurt and Munich hub airports, where Lufthansa has significant market power. This gives competing carriers the chance to enter those markets, ensuring fair prices and increased choice for European consumers."
Alongside the €6 billion contribute to Lufthansa's recapitalisation, Germany is also providing a €3 billion state guarantee on a loan.