Norwegian has raised the NKr6 billion ($718 million) in fresh capital required to exit its restructuring process later this month, after a private placement of new shares was "significantly oversubscribed".
The Scandinavian budget carrier detailed plans earlier this month to raise up to NKr6 billion by issuing new capital perpetual bonds of up to NKr1.88 billion, and carrying out a rights issue of up to 63 million new shares at a subscription price of NKr6.26 per share, aimed at raising gross proceeds of up to NKr395 million.
The plan also included offering up to 958 million new shares in a private placement limited to an amount that would not exceed the gross proceeds of the NKr6 billion raise. The airline aims to exit examinership in Ireland and Norway on 26 May 2021.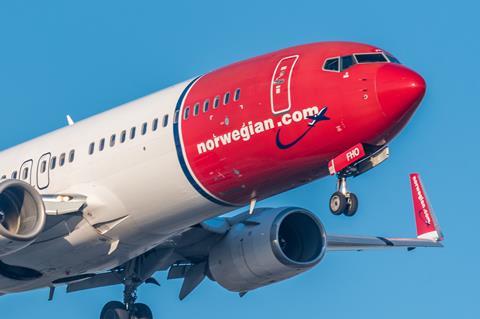 In a 21 May stock-exchange filing, Norwegian said it had received subscriptions for about 311 million new shares in the rights issue, indicating "an oversubscription of approximately 393%". The airline also said it had received subscriptions in the new capital perpetual bonds offering for "an amount exceeding" NKr1.88 billion.
As a result of the private placement being "significantly oversubscribed", Norwegian expects to allocate 595,869,048 new shares, raising gross proceeds of about NKr3.7 billion.
The new capital perpetual bonds are expected to be issued on or about 26 May. Both the rights issue offer shares and the private placement offer shares are expected to be issued on the same date, and to be tradeable on the Oslo stock exchange on or about 27 May, subject to conditions.
DNB Markets is acting as sole global coordinator and joint bookrunner for the capital raise, along with joint bookrunner ABG Sundal Collier and financial advisor Seabury Securities. Advokatfirmaet BAHR is acting as legal counsel to the company.