July traffic figures released today show Wizz Air operated more than 70% of its planned capacity, while Europe's biggest low-cost operator Ryanair saw its first significant return of passengers since the global pandemic began.
Ryanair carried 4.4 million passengers in July, as the pan-European budget carrier partially restored its network. The figure, though, remains 70% down on the same month of last year.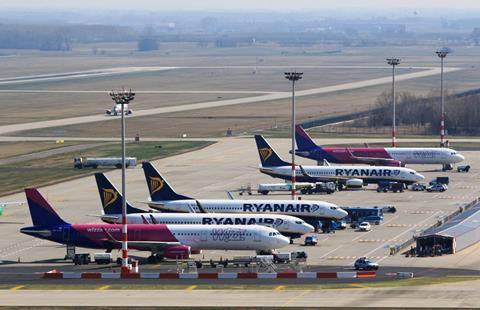 The carrier flew around 40% of its planned July schedule with a load factor of 72%.
The 4.4 million passengers in July compares with the 14.8 million Ryanair handled in the same month of last year. But it marks a 10-fold increase on the 400,000 passengers it handled in June, and is the highest figure it has reported in four months.
Central European budget operator Wizz Air, which also published July traffic data today, carried 1.8 million passengers for the month. That figure is 53% down on the same month in 2019.
The July figure compares with just over 500,000 passengers carried by Wizz in June, and surpasses the 1.75 million the carrier handled in March. Expanding Wizz had been growing passenger traffic at a rate of over 20% at the start of the year.
Wizz says it operated 74% of its planned capacity in July and achieved a load factor of 61%. While Ryanair only stepped up its capacity in July, Wizz was already flying around 25% of its capacity in June.
Ryanair and Wizz traffic figures 2020 so far
January
February
March
April
May
June
July
Ryanair
10,800,000
10,500,000
5,700,000
40,000
70,000
400,000
4,400,000
Change v 2019
5%
9%
-48%
-99.6%
-99.5%
-97%
-70%
Wizz
3,151,622
3,014,341
1,754,032
78,389
126,549
502,253
1,824,452
Change v 2019
22.7%
25.6%
-35.6%
-97.6%
-96.4%
-86.1%
-53%
Source: company announcements