Singapore's competition watchdog has given conditional approval for a wide-ranging commercial partnership between Singapore Airlines and Malaysia Airlines.
In comments made on 10 May, the Competition & Consumer Commission of Singapore (CCCS) says conditional approval was given in light of the coronavirus pandemic, which had "significantly impacted" competition on direct air links between the two countries.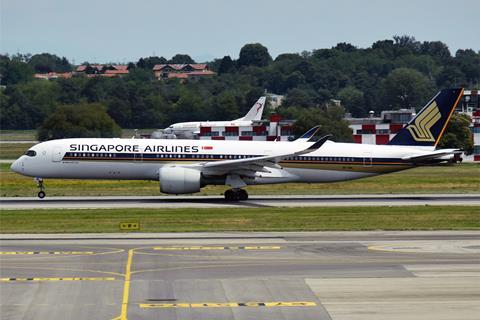 "This limited CCCS's assessment based on available information as to the competition impact of the cooperation post-Covid-19, and the Parties' ability to substantiate its claims of net economic benefits from the same."
To this end, both SIA and Malaysia Airlines have drafted a series of proposed "commitments" - not yet disclosed by the CCCS - for when air travel recovers post-pandemic.
"Under the commitments, the parties will have to subject the [joint business arrangement] to CCCS's further review when a series of indicators signal a sustained recovery and subsequent sustained normalcy of aviation activity on the overlapping direct routes," the commission adds.
It took the view that the commitments "would provide sufficient safeguards" to ensure that the joint venture would only be implemented when recovery was imminent.
For the purposes of anti-competition assessment, the CCCS analysed two city pairs: Singapore-Kuala Lumpur (including flights to Subang, which were previously operated by Malaysia Airlines unit FireFly), as well as Singapore-Kuching.
Both carriers first signed the joint business arrangement in October 2019, which spans co-ordination of flight schedules, joint fares, alignment of corporate programmes, and exploration of a tie-up between the airlines' frequent-flyer programmes.