US regional carrier SkyWest Airlines earned $23.5 million during the third quarter, down from $48.3 million last year as it flew 10% fewer block hours.
Departures across SkyWest's network were down 7.5% year-on-year, to about 180,000 from 195,000, and the carrier flew about 5% fewer passengers, the carrier's executives said during its third-quarter earnings call on 26 October.
The St George, Utah-based regional carrier generated $766 million in third quarter revenue, compared with $789 million during the three months ending 30 September 2022.
Expenses were up slightly, to $717 million from $714 million last year.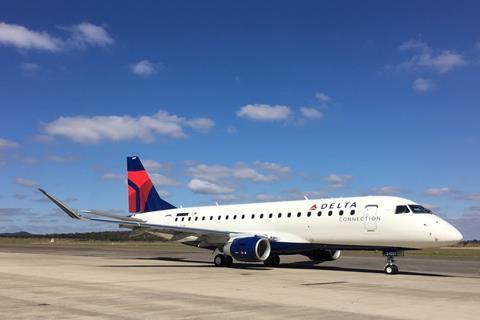 Higher pilot pay was "partially offset by lower aircraft rent expense due to the early lease buyouts on 35 [Bombardier] CRJ aircraft" and lower operating costs from flying fewer block hours, SkyWest says.
"Pilot availability and specifically captain availability has been a challenge here and across the industry," says chief executive Chip Childs.
During the Regional Airline Association's Leaders Conference in late September, Childs said that SkyWest was "1,200 pilots short" of the 5,500 it employed in 2019.
Pilot attrition has since "continued to stabilise" and was slightly lower than the carrier anticipated for the third quarter, Childs says. "It will take some time to regain our crew balance and restore production and full utilisation of our fleet."
SkyWest says it is unlikely to fly more block hours next year, expecting that metric to remain flat "with pilot availability the gating factor", chief financial officer Robert Simmons says.
Company executives provided an update on subsidiary SkyWest Charter (SWC), which was established earlier this year and has been the subject of controversy and regulatory scrutiny.
Pilots' unions and some airlines have been calling on the US aviation regulators to close what they say is a "loophole" that allows regional carriers to operate scheduled flights under the guise of charter flying. The FAA is considering tightening rules for some charter flight operators. And the US Department of Transportation has still yet to approve SWC's request for commuter authority, which the carrier argues would allow it to connect small communities with little or no air service.
"Once granted commuter authority, SkyWest Charter will be able to better serve small communities," the airline says.
Commuter authority is not required for Part 135 charter operations. SWC is currently operating on-demand flights with 15 CRJ200s, according to Cirium fleets data.
SkyWest will "continue to fight for what we believe these communities deserve", Childs says. "We are hopeful that SWC would probably deploy about 20-25 aircraft in small community service with the commuter authority."
Such a charter fleet is "still extremely small relative to SkyWest and our overall fleet", he emphasises.
During the earnings call, SkyWest disclosed that it will acquire 19 new Embraer 175s to fly under contract for United Airlines and expects to take deliveries of 23 of the type through 2026.
SkyWest contracts with major US carriers such as Alaska Airlines, American Airlines, Delta Air Lines and United.