A new US passenger carrier start-up called Avelo Airlines is now selling tickets and plans to start revenue flights on 28 April.
The airline, which promises to connect secondary cities in the western USA, began taking bookings on 8 April. Initially, the carrier says, it will fly a network of 11 routes. Its home base will be Hollywood Burbank airport, near Los Angeles.
Avelo is the first of two start-up domestic US carriers expected to launch this year. The other is Breeze Airways, a project by serial airline entrepreneur David Neeleman. That carrier's headquarters are in Salt Lake City, and after the airline secured Department of Transportation (DOT) certification in mid-March, its launch also seems imminent.
Both carriers are low-cost operations that plan to cater to price-conscious leisure travellers.
"We are making flying more affordable and convenient by taking the greatest efficiencies we can find in the industry and sharing the savings with our customers in the form of surprisingly low fares," says Avelo's chief executive Andrew Levy on 8 April.
Levy co-founded ultra-low-cost carrier Allegiant Air in 2002, and was chief financial officer at United Airlines. He left United in 2018 with the intention of founding a new airline. He then bought Florida-based charter operation XTRA Airways later that year, gaining a commercial airline certificate.
Avelo is backed by $125 million in private equity and will launch operations with three Boeing 737-800s, expanding to six aircraft by year-end. The cabins will have high-density configurations, with 189 seats each.
Its network focuses on the western USA, connecting smaller cities that have few or no flights other than those to major hub airports. These include places like Medford, Oregon, Eureka, California and Grand Junction, Colorado.
Avelo will also serve smaller airports close to major metropolitan centres like Phoenix (Mesa), Salt Lake City (Ogden) and the San Francisco Bay Area (Santa Rosa).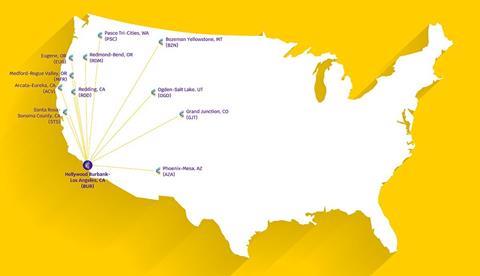 Avelo is attempting to attract interest by offering fares beginning at $19 one-way from Burbank, in addition to "travel-enhancing options at industry-low prices".
A test booking for a flight between Burbank and Bozeman, Montana at the beginning of May showed that the actual ticket price was $4.28, with the remainder in taxes and airport fees.
Ancillary fees for that flight include a carry-on bag for $35, a checked bag for $10, priority boarding for $10 and a small pet in a carrier for $95.
The airline has 150 employees, it says, increasing to 200 by the end of April. At the end of 2021, Avelo hopes to employ 400 staff.