Virgin Atlantic chief executive Shai Weiss is braced for a "subdued" year in 2023 given global economic headwinds and recession in the UK, though he notes the airline has not yet seen these challenges filter through to forward bookings.
Weiss, speaking during a fireside chat at the UK's Aviation Club in London today, highlighted the strength of demand this year which has helped the airline recover to pre-pandemic revenues despite capacity for the year remaining 20% down on 2019.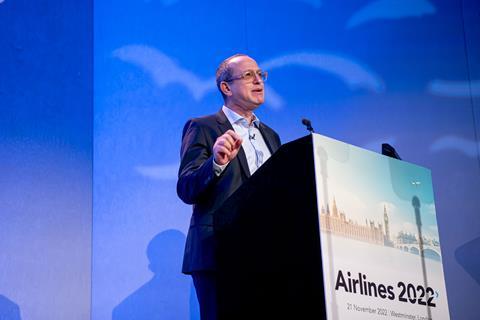 "For us it's been a very good year. Not profitable yet, but a very good year. We will exceed 2019 revenues," he says.
Weiss though points to the war in Ukraine, cost of living crisis, rising energy costs and the impact of political upheaval in the UK. "All these things have an impact on all of us, all our people, our customers and the way we are managing ourselves for 2023," he says. "So that is what we have dealt with and dealt with quite well."
Notably, the economic outlook for the UK has worsened, with forecasts projecting the country is in a recession it will not emerge from before 2024.
"We are not oblivious to the macro-economic and overall backdrop to the environment going into 2023," says Weiss. "For our planning purposes, we are assuming there is a deep recession in the UK.
"Airlines are correlated to GDP, we all know that. So we think there is a very tough period, especially in the UK, and tougher than the [other] G7 [countries]. So that is planning hypothesis towards 2023.
"Having said that, the bookings we are seeing right now do not indicate a slowdown, and…there is still the corporate traveller to come back in full force," he adds.
"So we are planning for a very subdued year, but we have not seen a slowdown and I think that is very consistent with what you have seen from other airlines, especially the US."
The brighter performance in 2022 follows a major restructuring after the pandemic – a period in which Virgin as a long-haul-only operator was particularly hard hit by the closure of international borders.
"From April 2020 for 90 days we didn't fly one passenger," he says. "We didn't get any government support, for reasons that are beyond me. But once we understood that was a condition of our existence, that is what we did. We took some amazingly tough decisions; selling our 747s, A340s, not flying out of Gatwick, letting go 45% of our people."
While he says the steps were taken to "ensure the business….could survive", Weiss notes the decisions positioned the carrier beyond pure survival. "We will not unwind them now, because our cost base is so much better – we took £300 million off our cost base."
Describing the carrier as "fit for purpose" for the future, he says: "Our job now is to make sure…. that the fix we did during the pandemic and the pain that we took, will serve us well in the years ahead. We have all the ingredients to be a really top-notch company, which we are, but we can go even further."