As Indian carrier Vistara emerges from the country's devastating second wave of Covid-19, it remains focused on long-term growth.
During the recent surge of cases in India, the carrier was only operating about 20-25% of its pre-Covid-19 capacity, says Vistara chief commercial officer Vinod Kannan. This will ramp up to 30-35% in the coming weeks.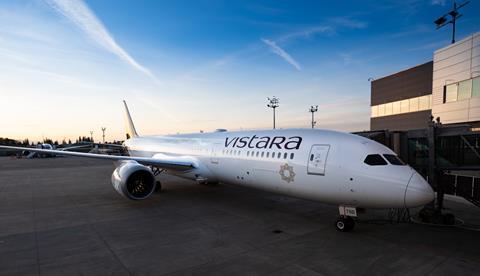 "I think load factors and occupancy have come up for us and for everyone else as well," he says. "So it looks like the signs are positive. We will have to wait and see."
According to Indian government statistics, April and May were hard on Indian carriers as the country's Covid-19 situation spiralled out of control. Vistara's load factor for April was 54.6%, but this fell to 40.9% in May. Only low cost carriers SpiceJet, Go Air, and IndiGo managed to eke out load factors above 50% during May.
One dynamic that Kannan has observed is that Indians have an even greater tendency to book close to their travel date than before Covid-19. Before the coronavirus pandemic, fliers would book within 7-10 days before travelling. This has shortened to 3-4 days.
Kannan gives several reasons for this. First, people want to be sure they really need to travel, and also to ensure that state borders are not about to close. In addition, some states require negative Covid-19 tests 72hrs before departure.
"Obviously you want to make sure the test is okay before you make a booking," he says.
For the time being, Indian carriers are restricted to operating just 50% of their pre-pandemic capacity. Before the second wave the capacity limit had risen to 80%, and Vistara had hoped that it would go back to full capacity.
Nonetheless, Vistara is operating most of its pre-Covid-19 domestic network, reaching some 25 destinations. These include key big-city routes between major cities such as Bengaluru, Delhi, and Mumbai.
"We operate most of the points that we used to operate to, so the connectivity is there," he says. "It's just that the frequency and the days of the week [have changed]. Sometimes it might not be a daily flight but operate three to five times a week."
On the international front, Vistara operates its pair of Boeing 787-9s to just three overseas destinations: Doha three times a week, Frankfurt once weekly, and London twice weekly. The financial performance of these routes is largely reliant on bellyhold cargo. Of these, London is the best performing route, despite requirements for quarantine and testing.
Kannan says that demand exists on other international routes, but government regulations overseas are, for the time being at least, holding back further international forays.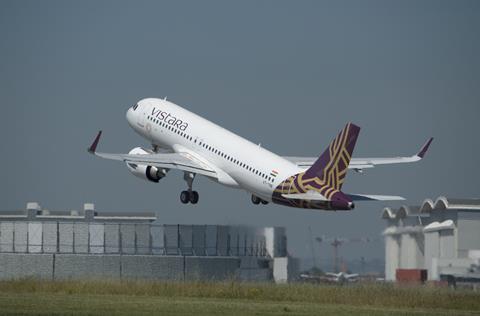 Longer term, Kannan hopes to reopen services to Singapore, its original overseas destination launched in August 2019 - Vistara is a joint venture between Singapore Airlines and India's Tata Sons. In December 2020, SIA and Vistara signed a deal – subject to regulatory approval - to evolve their codeshare partnership to cover areas such as capacity planning, sales and marketing, as well as customer service and operations.
"[SIA cooperation] is something in the works, but given that we are not operating any scheduled international flights, it is probably not as much of an issue now as for when we restart."
Vistara's fleet now stands at 47 aircraft, comprising 36 Airbus A320s, three A321neos, six Boeing 737-800s, and the two 787-9s. It also has orders for four additional 787s and 25 A320neo family jets. The leased 737s will slowly leave the fleet, and Vistara is due to get another 787 soon – although this is delayed owing to the broader issues with the 787 programme.
Nonetheless, Kannan says that plans call for the fleet to hit 70 aircraft by 2023.
"We believe that demand will come back…whether it's end of 2021, hopefully, or whether it's early 2022. Given the potential for India as a source market, or even as a destination market, we believe that we should be able to widely use those planes."