WestJet has eliminated about half of its workforce as it tries to preserve itself while the coronavirus continues ravaging the air transport industry, says chief executive Ed Sims.
"Today, 6,900 WestJetters are receiving notices confirming early retirements, early outs and both voluntary and involuntary leaves," Sims says in a video message posted on the airline's website on 24 March. The airline had about 14,000 workers prior to the cuts.
"This is devastating news for all WestJetters. The fact that we avoided a potentially worse outcome is testament to the spirit and selfless attitude demonstrated by our people, who have enabled WestJet to continue operating with a collective remaining workforce of 7,100."
About 90% of those being made redundant accepted voluntary departures, for a period of no less than three months, and some permanently, he adds.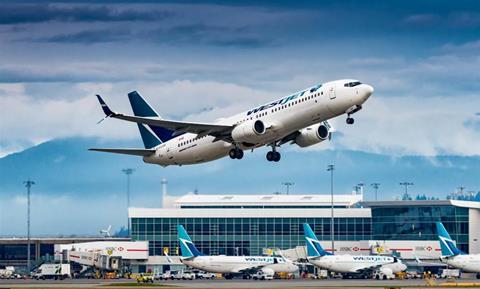 "It is through these WestJetters' sacrifices that we can preserve a core of people who will remain employed to prepare for the moment when the situation stabilises, and we can look to rise again," Sims says.
The Calgary-based airline, Canada's second to flag carrier Air Canada, is currently operating at about the same size it was in 2003, having cancelled all international operations and working a skeleton domestic service. The airline has grounded 120 aircraft, which is about two thirds of its fleet, Sims says.
The carrier, like peers in North America and around the world, has taken radical measures to preserve cash. Executive team members and directors have taken pay cuts, the airline released about 80% of contractors, instituted a hiring freeze, stopped non-essential travel and paused about three quarters of its capital projects.
All Canadian airlines have been hit hard by the crisis. On Tuesday, Air Transat said it would be cutting 70% of its staff and suspend all flights from 1 April. Air Canada laid off 5,100 cabin crew last week. Vacation specialist Sunwing Airlines and regional airline Porter have also announced operational halts.
The country's airline industry has requested government aid to help manage through the global pandemic.