Diehl Aviation and HAECO Cabin Solutions are exhibiting a full-size demonstrator of their asymmetric premium cabin configuration for single-aisle aircraft – four- or five-abreast – in a full-size demonstrator for the first time this week at the Airline Interiors Expo.
The cabin promises greater comfort for passengers, and additional revenue for airlines through seat densification.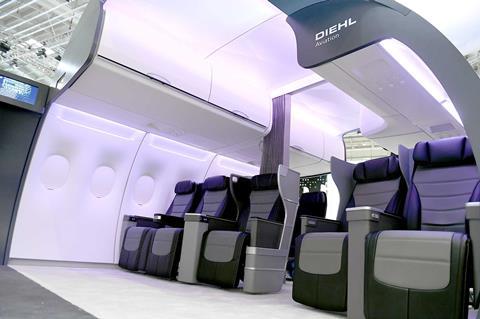 "For passengers, this means significantly improved comfort," the companies say. The new cabin design is effective for either application. Because the seats are staggered, passengers do not sit directly behind each other, and the seats are enclosed in a fixed rear backrest, so that privacy is maintained.
In addition to the new seats from HAECO, a state-of-the-art cabin lighting system, ECO lightweight partitions and Diehl's enlarged overhead bin complete the cabin concept, says Harald Mehring, the German company's chief customer officer.
The concept is easy to install as a retrofit and provides additional overhead space.
Conversion of existing cabins can be done with a standard modification kit, already certified by the Federal Aviation Administration and the European Union Aviation Safety Agency.
In an important nod to sustainability, the kit is designed to re-use "the maximum number of parts from the current cabin", Diehl says.
At the Interiors Expo in Geneva, Diehl Aviation is showing off numerous smart solutions, Mehring says. "From touchless toilets to intelligent galley appliances, the company is focused on developing technologies that can optimise the operations throughout the aircraft," he adds.