Austrian aerospace firm FACC has delivered its first entrance area of the 'Airspace' interior configuration developed for the Airbus A320neo.
FACC had been tasked with developing the door zone and overhead bins for the new interior layout two years ago.
The Airspace cabin was introduced on the long-haul Airbus A350 and A330neo, but Airbus has been working to apply similar concepts to the single-aisle family, offering additional comfort to passengers as well as larger luggage bins and customised lighting.
FACC says the redesigned entrance has a "sophisticated appearance" and the manufacturer has used composite materials to optimise weight.
"The cabin solution comprises the entire lining of the entrance and door area in the front, middle and rear sections of the aircraft," it states, adding that the lighting system will provide a "completely unique and pleasant interior atmosphere" throughout the cabin.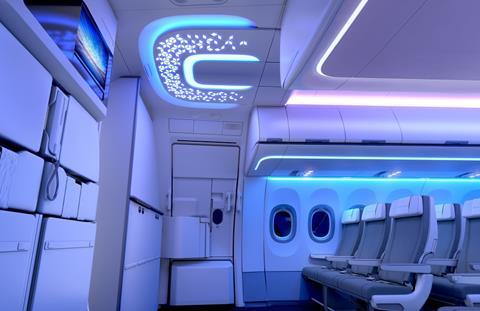 Following the initial delivery of components, including the lighting, to Airbus's Hamburg Finkenwerder facility for installation, FACC is to embark on ramping-up serial production.
Airbus is continuing to produce A320neo-family jets at a reduced rate of 40 per month, in response to the air transport downturn.
The entrance area provides the first visual and aesthetic impression to passengers boarding the aircraft, but FACC points out that several features of the redesign are hidden.
"Thanks to the intelligent and innovative connection concept, maintenance times of aircraft technicians can be kept to a minimum," it says.
FACC vice-president of cabin interiors Andreas Furthmayr says this will "significantly reduce" service costs for customers. "We have geared the component design of the entrance area towards high volumes and modern production processes," he adds.