Russia's United Aircraft has introduced a new automated production line for Ilyushin Il-76MD-90A heavy transports which is intended to enhance substantially the assembly process.
The technological processes are being tested at the Aviastar manufacturing facility in Ulyanovsk.
Compared with the previous traditional process, the automated line will reduce by four times the time required for final assembly, says the company, and the complexity involved.
It states that up to 18 aircraft per year can be assembled on the line, increasing serial production of the transports.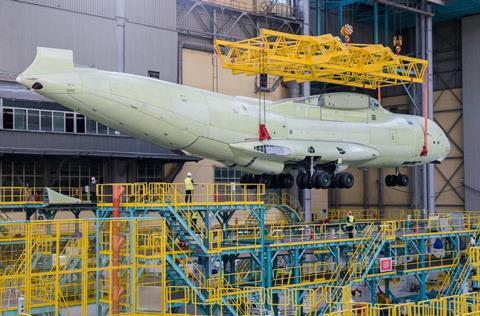 The production line comprises 10 robotic stations. Separate fuselage sections are loaded into an automated positioning rig and mated using laser measurement.
Once mated the fuselage is transferred to the next station for hydraulic system fit, and subsequently electrical installation, wing and empennage mating, before the airframe, with its undercarriage extended, is lowered and moved to the engine attachment and systems test area.
"This is the first time such technology is used to assemble large transport aircraft," says United Aircraft first deputy director general Sergei Yarkovoy.
"Use of digital technologies will reduce the labour intensity of the work and significantly reduce the time for mating airframe sections."
Aviastar says the first initial Il-76 fuselage mating using the process has been completed.
Modernisation of the production facility will ensure timely delivery to customers and generate increased revenues, adds Yarkovoy.
"Launch of the new production line is a landmark event for the Ulyanovsk enterprise and for the entire industrial landscape of the corporation," he says.