Boeing is seeking authorisation to fit mini-suites to its 737 Max range, similar to those already approved in other aircraft types.
The airframer states that it is proposing to install up to 32 of the suites – each featuring its own privacy door – on the Max 7 up to the Max 10.
It has filed a request to the US FAA for exemption from regulations prohibiting installation of doors between passenger seats and emergency exits.
While privacy suites have become a feature of long-haul premium cabins, the increasing range of single-aisle jets has led to similar product offerings on such models.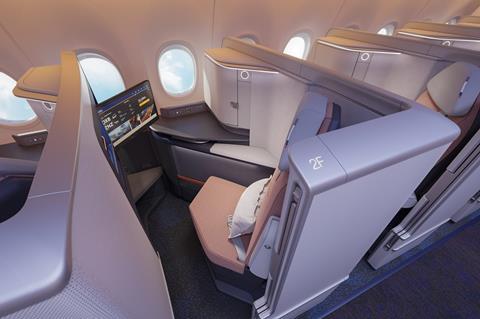 Airbus previously filed a regulatory request to the FAA covering the installation of mini-suites on A321neos for a US operator.
The airframer had suggested there was room for debate as to whether the mini-suites' sliding privacy door constituted a door in the sense intended by the prohibition.
But it justified the installations by listing several safety features – such as frangibility, and the fact that the doors would remain open during taxi, take-off and landing – which would ensure evacuation was not impeded.
Middle Eastern carrier Flydubai recently disclosed that it was aiming to provide mini-suites for business-class customers on its 737s.
Flydubai plans to fit the mini-suites initially on a small number of aircraft by early 2024.