Boeing has signed a memorandum of understanding (MoU) with Indonesia related to civil aviation, as it opens a new permanent office in Jakarta.
The MoU with Indonesia's Directorate General of Civil Aviation (DGCA) looks to help the country strengthen its aviation sector with a focus on flight safety, efficiency, and sustainability, says Boeing.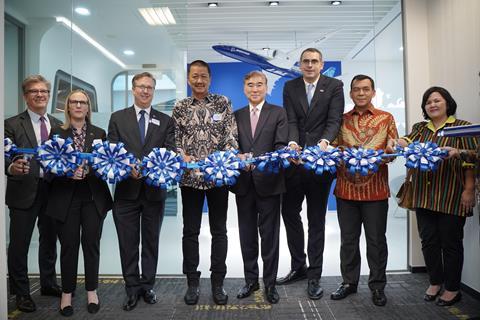 "Indonesia is home to one of the world's largest aviation markets," says Zaid Alami, country managing director at Boeing Indonesia.
"The MoU with Indonesia's DGCA and the opening of Boeing's new permanent office in Jakarta further demonstrates our commitment to Indonesia and our customers while laying a strong foundation for future growth."
The office opening follows Jakarta's signing of an MoU in August to buy up to 24 F-15EX fighters. Should the deal be finalised, it will mark a major step for Boeing's defence business in the region.
Cirium fleets data suggests that Indonesia is also a critical market for the US airframer's commercial arm, with 204 Boeing aircraft in service in the country, and another 45 in storage.
In addition, Indonesian carriers have orders for 278 Boeing 737 Max-family narrowbodies; low-cost carrier Lion Air accounts for 229 of those orders, and Garuda Indonesia 49.
The status of the Garuda order is unclear, however. Garuda had orders for 50 737 Max 8s and took delivery of one example before returning it to a lessor, and has previously stated that its commitment with Boeing has been terminated.
But Boeing still lists Garuda has having 49 unfilled orders for the 737 Max. The carrier is also a major operator of the 737-800. An image that Boeing provided from the Jakarta office opening shows that Garuda chief executive Irfan Setiaputra was in attendance.
Boeing has had a challenging time in Indonesia in recent years, following the crash of Lion Air 737 Max 8 on 29 October 2018, killing all 189 aboard. It was the first of two 737 Max crashes, which resulted in a lengthy grounding and a major redesign of the jet's flight controls.