Strong aftermarket demand for CFM International CFM56 spare parts on the back of increased single-aisle utilisation helped Safran to revenues of €5.8 billion ($6.1 billion) in the third quarter.
That figure marks a 20% increase on the same period a year earlier – up almost 26% on an organic basis – while revenues for the first nine months of the year hit €16.7 billion, up 25.1%, or nearly 26% organically.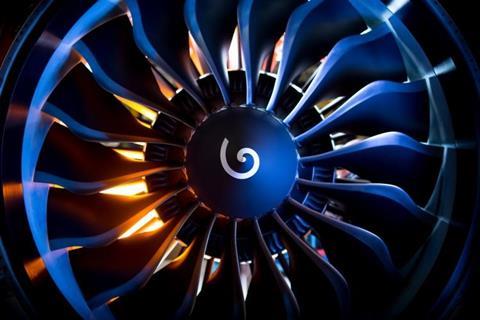 Safran, which is a partner with GE Aerospace in the CFM narrowbody engine joint venture, says average global single-aisle capacity across the first nine months of 2023 was 104% of pre-pandemic 2019 and at 107% for the third quarter.
Additionally, cycles of CFM engines reached 104% of 2019 levels by mid-October, with the highest utilisation seen in North America at 115% of 2019's figure.
"Safran continues to enjoy strong market tailwinds with narrowbody air traffic now trending well above pre-crisis level resulting in a strong demand for CFM56 spare parts," says Olivier Andries, Safran chief executive.
Civil aftermarket revenues in the propulsion segment were up 39% for the third quarter, to €1.9 billion against €1.5 billion in the same period of 2022, and up by 37.5% across the nine-month period, rising from €3.4 billion to €4.2 billion.
Overall propulsion revenues for the quarter were €3 billion and €8.7 billion for the nine-month period, versus respective figures in 2022 of €2.5 billion and €6.6 billion.
"Our priority remains to ramp-up production while we still operate in a constrained supply chain environment. On the back of this solid nine months, we are comfortable with the delivery of our 2023 guidance raised at the end of July," adds Andries.
CFM delivered 389 Leap engines during the quarter, an increase of 12%, or 42 units, against the same period of 2022, and shipped 1,174 Leaps over the nine-month period, up 45% on the 812 delivered across the first three quarters of 2022.
However, Safran says supply chain challenges will temper slightly its full-year Leap delivery target: it now sees shipments rising by 40-45% over 2022's total, against a previous prediction of a 50% increase.
CFM delivered 1,136 Leap engines in 2022. Its revised guidance indicates deliveries will now be in the range of 1,590-1,647 units, rather than the previously predicted total of around 1,700.
Civil aftermarket revenue will rise by more than previously forecast, however, growing by a percentage in the low thirties, rather than the mid- to high twenties previously predicted.
Overall full-year financial guidance remains in line with Safran's July forecast: adjusted revenue will be at least €23 billion with adjusted recurring operating income of around €3.1 billion.
Third-quarter revenues in the equipment and defence segment stood at €2.1 billion versus €1.8 billion a year earlier, and €605 million versus €522 million for the aircraft interiors business.

Dominic Perry is deputy editor of Flight International but also contributes extensively to flightglobal.com. Although specialising in the coverage of the helicopter industry, he has written on most topics in aerospace – be they commercial, defence or business aviation. In addition, there has been an increasing focus on the decarbonisation of the industry and zero-emission flight initiatives.
View full Profile