Nidec Aerospace, the electric propulsion joint venture between Embraer and Japanese electric motor specialist Nidec, has secured regulatory approvals to commence operations, as it targets mass production of electric propulsion systems by 2026.
The company, owned 51% by Nidec and 49% by Embraer, will be headed by Vincent Braley, who is currently the chief of staff for Nidec's Motion and Drives business in the USA.
In a joint press release, both companies say the joint venture – first announced at this year's Paris air show – "combines the complementary synergies and distinct areas of expertise of two world-class engineering conglomerates".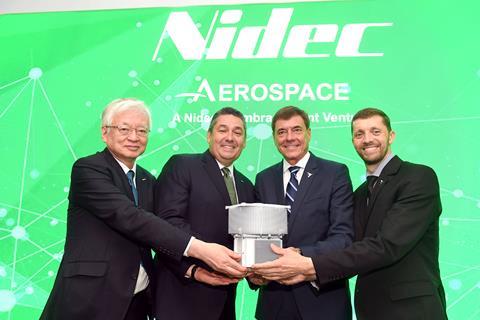 Nidec Aerospace plans to develop propulsion systems for the electric vertical take-off and landing (eVTOL) segment, including for in-development air taxis by Embraer-owned Eve Air Mobility.
In the longer term, it hopes to expand its technology to larger aircraft, possibly including future Embraer regional aircraft.
The company will invest about $77 million over the next few years to start mass production.
Nidec senior vice president Michael Briggs says the approval is a "significant milestone" for the joint venture. He adds: "Now with official clearance to proceed, the Nidec Aerospace team is poised to bring the expertise, speed, and drive needed to accelerate sustainable aviation on a global scale."
Under the joint venture, Embraer will contribute its expertise pertaining to the controller, while Nidec will provide its expertise, technological know-how and resources relating to electric motors
The deal is Nidec's first venture into the aerospace industry. Founded in Kyoto, Japan, Nidec has more than 100,000 employees globally.