Embraer's urban air mobility business Eve has partnered Australian helicopter operator Microflite to roll out electric vertical take-off and landing (eVTOL) aircraft operations in the country, which it expects to start in 2026.
Microflite and Eve will use helicopters at the initial stages of the partnership, as a proof of concept to "validate parameters" applicable to eVTOL aircraft operations in the future.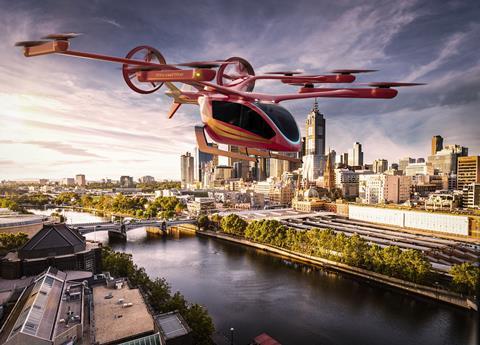 "This partnership also aims to develop new services and procedures that will create a safe and scalable operating environment for electric vertical aircraft operations together with communities and other industry stakeholders," says Eve.
The partnership builds on a 2019 Concept of Operations developed by Eve and Airservices Australia, which saw Microflite play a contributory role. The city of Melbourne, in Australia's Victoria state, has been earmarked as the testbed for electric air taxi services.
Says Eve president and chief executive Andre Stein: "Our partnership with Microflite allows Eve to inject innovation and new mobility solutions within the Australian market. We can deliver a comprehensive solution, including maintenance services and air traffic management, getting ready to introduce our aircraft to Australia, while benefiting from Microflite's extensive local operational experience."
Microflite chief Jonathan Booth adds: "This partnership is an exciting development for Microflite. Australia needs a post-Covid lift and what better way to do that than by developing high-tech and low carbon jobs that support transport, tourism and the vibrancy of this wonderful country."
The news comes more than a week after Eve announced intentions to operate up to 100 electric air taxis in the Asia-Pacific region via a partnership with Ascent Flights Global. It said in late-August that it intends to provide up to 100,000h of annual air taxi flights starting in 2026, in "key cities" such as Bangkok, Manila, Singapore, Tokyo and Melbourne.