French aerospace firm Aura Aero is intending to develop a 19-seat electric-powered regional aircraft, as it looks to certify its two-seat Integral R light single.
Aura Aero says the 19-seat project, to address the embryonic low-carbon transport sector, is supported by the Occitanie region.
It unveiled the plan as it inaugurated an assembly line at Toulouse Francazal for serial production of the Integral R, which first flew in June last year. The site, in a historical hangar, will also serve as a station from which to develop new aircraft.
Aura Aero plans to become a "key player" in the low-carbon sector, it says, ambitiously aiming to carry out a maiden flight of the 19-seat transport in 2024 for service entry in 2026.
The company says the aircraft will have electric engines, and specially-developed batteries, and it is also proposing a freighter version.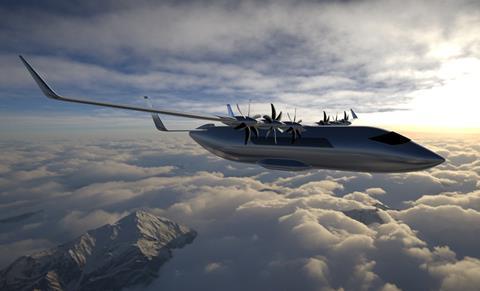 Aura Aero president Jeremy Caussade says the new facility means the company can "pursue its growth in a modular and evolutive area".
Along with the Integral R – for which certification and first deliveries are planned this year – the manufacturer is looking to launch an electric version of the light aircraft, the Integral E, to fly next year, as well as a tricycle landing-gear variant, the Integral S.
Aura Aero aims to start Integral R deliveries this year, assemble 30 aircraft next year and 50 in 2023. It claims it has order intentions for 50 electric Integral E versions.
"We are beginning to work on our strategy aimed at the low-carbon regional transport market, with an electric-thrust 19-seater," says Caussade. "And we are aiming to create an airline-airport coalition for low-carbon aviation."
The Occitanie region is financially backing the Integral projects and Aura Aero says it will also provide €3-5 million for the 19-seat programme.
Region president Carole Delga says France "must be a leader" in the creation of "greener" electric and hybrid aircraft.
"We must show great political voluntarism, by devoting new resources to research and development," she says. "Drawing on cutting-edge technology will enable us to create many jobs and to maintain key competences on our territories."