Almost as soon as Boeing bailed from a potential partnership with Embraer, the Brazilian government floated an alternative: cosying up to China.
The Boeing-Embraer partnership, first announced in 2017 and worth around $4.2 billion, collapsed when the American airframer pulled out.
With another suitor now needed, China has been mooted as an alternative. A report from Reuters quoted Brazilian vice-president Hamilton Mourao saying "a marriage [with China] needs to continue". Brazil has aerospace expertise and China has aircraft demand, Mourao says, calling Boeing's jilting a "blessing in disguise".
While the Brazilian government does not own Embraer, it is one of its largest military clients and formerly owned a substantial portion of the airframer.
So far, China has been mum on the issue.
But is a potential partnership with China an "inevitable marriage" — to borrow the words of Mourao — or a case of strange bedfellows? More importantly, what is at stake in any potential tie-up?
A CHEQUERED PAST
The Brazilian government's suggestion of cosying up to China might raise a few eyebrows, but it is not the first time Embraer and China have partnered.
Embraer had a presence in China for nearly 14 years beginning in the early 2000s, in the form of a joint venture with Chinese airframer AVIC.
It began in late 2002, when Embraer confirmed speculation it was entering into the partnership, and Harbin Embraer Aircraft Industry (HEAI) was born.
Its role was to build ERJ-145s for the Chinese aviation market. The facility would also later produce Legacy 650 business aircraft, which are based on the regional jet.
The launch of a Chinese assembly line "represents Embraer's long-term commitment to the Chinese aviation industry", said Embraer's then-chief executive Mauricio Botelho.
It seemed then like a great idea: the Chinese airline market was booming, and airlines could buy locally built regional jets to avoid tariffs on imported models.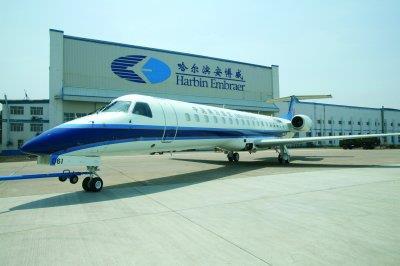 However, that partnership gained little traction. HEAI had failed to secure a launch customer by the time the first locally produced ERJ-145 was flown in December 2003.
Orders arrived slower than anticipated, and by early 2006 the company was already contemplating an end to production.
Tariffs imposed by the Chinese government did little to help. Embraer's then-president of its China operations Guan Donguan told FlightGlobal in 2015 that the company had to pay an average of 3% import duty on components brought into China. On top of that, it was also slapped with 17% in value-added taxes.
This made production costs in China — ironically — higher than those in Brazil.
In 2011, work switched to the Legacy 650 business jet. This also disappointed, with just a handful of aircraft produced. In total, HEAI built slightly more than 40 ERJ-145s between 2004 and 2010, with another five Legacy 650s subsequently produced.
Embraer had proposed to build E190s at the factory, but this met government opposition on the grounds that the type would compete directly with the indigenous Comac ARJ21.
Much has changed in the Chinese market since Embraer's exit: the ARJ21 has entered commercial service, with more than 20 aircraft flying, and a backlog of over 300 units. Its narrowbody programme, the C919, is at the test stage.
AVIC is also developing the MA700 regional turboprop, which is slated to undergo testing this year.
The Brazilian airframer also has minimal presence in the market. Cirium fleets data shows Embraer has just over 100 regional jets in operation in the country. E190s make up the bulk of these aircraft (78), followed by E195s (20) and ERJ-145s (8).
Embraer only has one outstanding Chinese order: a single E190 for Hebei Airlines.
WILL IT WORK?
Given its past history with the Chinese market, would a modern-day partnership work? Teal Group aerospace analyst Richard Aboulafia is doubtful.
"For China to acquire Embraer's jetliner unit, they would have to spend much more on a foreign aerospace company than they have been willing to spend before," he tells FlightGlobal.
China has made several aerospace acquisitions, such as Austrian aerospace components manufacturer FACC in 2009, as well as US light aircraft manufacturer Cirrus Aircraft in 2011, alongside more recent purchases of interiors firms AIM Altitude and Thompson Aero Seating in the UK.
"What [Embraer] really needs is critical mass in dealing with the supply chain, helping them to keep costs down relative to Airbus. China wouldn't give them that." Richard Aboulafia, Teal Group aerospace analyst
However, Rob Morris, head of global consultancy at Ascend by Cirium, reckons partnering with China gets Embraer's foot in the door.
"With demand for new aircraft likely to decline precipitously and the [E-Jet E2 programme] already struggling a little, some partnership could be helpful to Embraer as it navigates through the next few difficult years before the market normalises and demand returns to better days," Morris says.
Market access for Embraer's E2 jets — which have not yet been certificated by China — could also be easier by partnering with Beijing, he adds.
However, the jury is still out as to how much Embraer would gain from a potential partnership.
Morris says Embraer would get a "partner with deep pockets", along with potential market access.
Says Aboulafia: "For China, Embraer would give them a great deal of intellectual property and a solid market presence.
"For Embraer, I am not at all sure what China would give them, other than [maybe] money. What [Embraer] really needs is critical mass in dealing with the supply chain, helping them to keep costs down relative to Airbus. China wouldn't give them that," he adds.
There are political ramifications of such a partnership. Even though the Brazilian government floated the idea, an actual Chinese acquisition of the country's "national aerospace pride" could be "a very big ideological problem" for president Jair Bolsanaro's conservative government, says Aboulafia.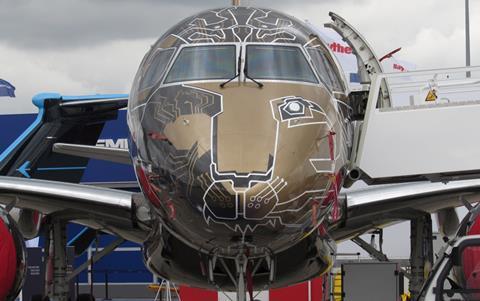 Analysts have mixed takes on how an Embraer-China partnership might affect nearby Japan's own indigenous regional aircraft programme, the Mitsubishi Aircraft SpaceJet.
Ascend's Morris says the failure of the Boeing joint venture could leave Embraer "with a renewed focus on the regional jet market". This might mean stiffer competition for Mitsubishi, he adds.
Aboulafia says the fallout between Boeing and Embraer might offer reprieve for Mitsubishi, as it "certainly opens the door to Boeing returning to a partnership with Mitsubishi".
Mitsubishi has already agreed to buy Bombardier's CRJ programme – a deal Aboulafia notes remains incomplete.
"Since the Bombardier CRJ deal has not closed yet, we cannot rule out the idea of it falling apart if [Mitsubishi] goes with Boeing," Aboulafia says. "Then again, staying with the CRJ solution would give SpaceJet a solid, installed base of current [regional jet] customers," he adds.