US-based electric air taxi developer Joby Aviation has begun conformity testing of the composite material destined to be used to manufacture its electric vertical take-off and landing (eVTOL) aircraft.
The move marks the start of the implementation phase of Joby's type certification programme.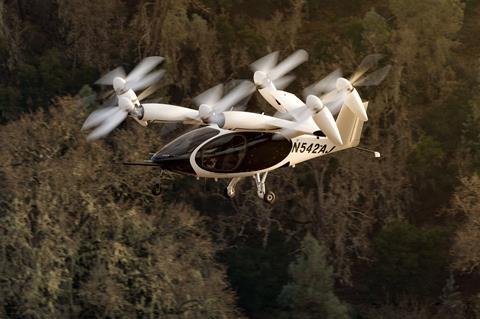 Testing was carried out at the Morgan Hill, California premises of material supplier Toray Advanced Composites, supervised by a Federal Aviation Administration (FAA) designated engineering representative.
Joby says the resulting compliance data inform future tests of major structures on the aircraft as it passes though the type certification process.
"After years of development and company testing, we're excited to formally begin the process of conformity testing," says JoeBen Bevirt, founder and chief executive of Joby.
Engagement with the FAA began in 2015, he says, to lay the groundwork for the pathway to certification.
Initial part conformity testing of the composite material was conducted in November. Joby says the properties of the carbonfibre have resulted in a material "that is lighter and stronger than existing aerospace-grade composites".
Joby in 2020 agreed a certification basis with the FAA. It continues to work with the FAA to define a means of compliance for its aircraft as it passes through the validation process.
The manufacturer hopes to gain FAA approval in 2024, enabling the launch of operations the same year. It has also applied for a Part 135 air carrier certificate from the US regulator, which it expects to be granted this year.
Separately, Eve – the Embraer-owned eVTOL developer – has agreed the type certification process with Brazilian civil aviation regulator ANAC. The manufacturer will then work alongside the agency to formalise the approval process globally, it says.
"It is an important moment that demonstrates the company's commitment to exploring the future of urban air mobility. The process aims to achieve the best safety standards to allow eVTOL access to the global market.
"From the regulation perspective, there is much work to be done concerning aircraft technology and the definition of the entire ecosystem. Brazil has the conditions and engagement to deal with this challenge," says Roberto Honorato, ANAC's airworthiness superintendent.
Embraer intends to list Eve on the US stock market through a merger with Zanite Acquisition Corp, a special purpose acquisition company, later this year.