Leonardo has ruled out divestment of its aerostructures operation despite the deep impact of the air transport crisis which has pushed back breakeven for the division until 2025.
Speaking during a third-quarter results briefing on 5 November, chief executive Alessandro Profumo said that in his view, despite its current difficulties aerostructures remains a "core business in the long run".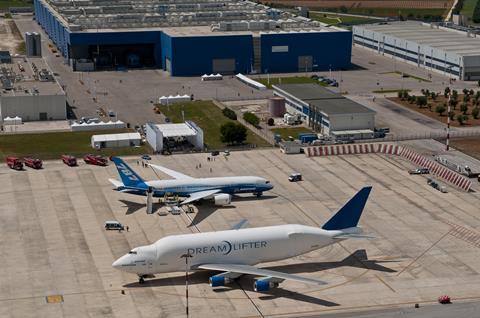 Aerostructues generated around 4% of the group's total €9.6 billion ($11 billion) revenues in the nine months ended 30 September.
But that business is dominated by work for the Boeing 787 programme, which in 2021 will be about 37% of the division's estimated €550 million full-year revenues, down from 50% of €1.1 billion turnover in 2020.
Profumo says that Leonardo's sole-source position on the 787, where it supplies the carbonfibre section 44 and 46 fuselage barrels and horizontal stabilisers, is an additional barrier to any sale of the aerostructures business. "This is legally very clear to us," he says.
But Leonardo has suffered as Boeing slashed production in response to the Covid-19-triggered air transport crisis and a delivery halt caused by quality issues: in 2019 the Italian firm made an average of 14 shipsets for the programme each month, which has reduced to an average of four per month this year.
"Today it is something we have to manage the best we are doing," says Profumo. "It is not possible today to get out of this business."
Prior to the pandemic, breakeven was forecast for 2021-2022, but this is now postponed until the end of 2025.
Lucio Valerio Cioffi, Leonardo general manager, says the sole-source position on the Dreamliner "could be an advantage in the long term" as "it ramps up again".
However, he says that Leonardo is "waiting for Boeing's indication" on future production rates: "We are not planning for a strong and sharp increase in the next year."
Despite this, he stresses that the company is not "analysing alternative options" for the unit and is instead focussed on restructuring the business through headcount reductions – 1,000 employees have departed from the aerostructures business – plus productivity improvements.
In addition, it is optimising sites and processes, says Cioffi, through the deployment of new automated production process. "We are really ready for the future," he says.
That process includes diversifying production at key sites, including its Grottaglie facility in the south of Italy. This was set up to produce fuselage sections for the 787, but Leonardo hopes to bring in "additional programmes and new customers".
Work for Airbus on the A220 and A320 programmes is ramping up again, and production for the ATR regional aircraft joint venture is also increasing, he notes. Respectively, these will contribute 17% and 16% of the aerostructures unit's turnover in 2021.