Organisers of the Russian MAKS-2021 Moscow air show are pressing ahead with the event despite the cancellation of the Paris air show, due to be held a month earlier.
The Russian show is scheduled to be held on 20-25 July next year at the Zhukovsky airfield.
Organiser Aviasalon claims that participant registration, which commenced in October, is proceeding at a "rapid pace".
It states that leading Russian aircraft manufacturers and "a number" of foreign companies have confirmed their attendance, and adds that the show's profile will be raised by "world premieres" due to take place at the event.
United Aircraft intends a broad showcase including the Irkut MC-21-310, the version of the MC-21 powered by domestic Aviadvigatel PD-14 engines. It will also show the Ilyushin Il-114-300 and Il-112V, while United Engine Corporation will update on developments with the PD-35 and PD-8 powerplants.
The Ural civil aviation plant UZGA is to show of the Baikal Engineering LMS-901, a utility aircraft intended to replace the Antonov An-2.
Embraer is among the foreign manufacturers planning to participate. The airframer had brought its 195-E2 regional jet to the previous MAKS show in 2019, and Aviasalon says it expects the company to present "full-scale exhibits" next year.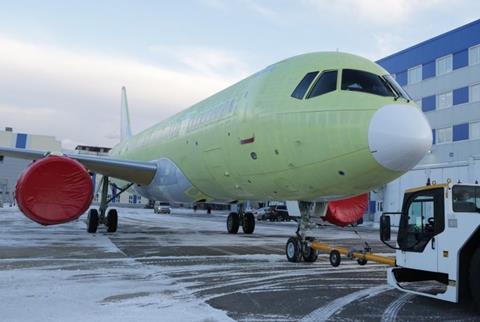 Both the Farnborough 2020 and Paris 2021 air shows have been abandoned as a result of uncertainty over the aviation industry and the logistical issues involved in working around pandemic-related restrictions.
Aviasalon general director Alexander Levin says much of the organising work for the event has taken place online, which has made certain processes more efficient. Within two months of exhibitor registration opening, the organiser says, over 100 applications had been received.
"MAKS promises to be the most significant aerospace event in the 2021 exhibition calendar," it adds, given the cancellation of the Paris show.
"The situation in the Russian market is different from what we see in North America or the European Union. After the lockdown of the second quarter of 2020, domestic airlines were able to significantly restore traffic volumes.
"Measures of state support provided by Russian manufacturers of civil aviation equipment make it possible to maintain demand for our aircraft and helicopters at a sufficiently high level."
Other high-profile aerospace events still planned for 2021 include the Dubai air show scheduled for 14-18 November.