German aerospace firm MTU Aero Engines is expecting a $1 billion impact from its risk-sharing position in the Pratt & Whitney PW1100G programme, as a result of the powder metal contamination issue affecting the powerplant.
But MTU is still assessing liability, as an 18% risk- and revenue-sharing partner, arising from customer support and expenses relating to additional engine shop visits.
The company says it might need to build up its liabilities, which would lead to a one-off charge in its third-quarter financial statement – resulting in a reduction in revenues and earnings.
MTU also expects a cash-flow impact over the 2024-26 period.
Chief executive Lars Wagner, speaking during a 13 September briefing, admitted that the situation was a "major blow" for the programme, but stressed that he was confident in its medium- to long-term prospects.
He says he is "certainly convinced" that the manufacturing issue is "not a fundamental problem" with the powerplant. "This overall picture leaves us looking optimistically into the future of the programme," he adds.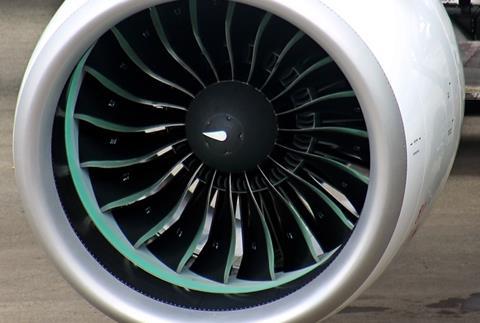 While the contamination issue initially centred on high-pressure turbine disks, and covered 1,200 engines, it has recently been expanded to cover some integrated rotor parts in the compressor produced with the ME16 powder.
This has increased the suspect population to 3,000 engines. While a large number of shop visits had already been built into maintenance schedules, the latest assessment means some 600-700 additional shop visits are necessary.
Prior assumptions of a high number of quick-turn shop visits "didn't hold", says Wagner. The aircraft-on-ground situation will be "elevated", he adds, with longer turnaround times.
MTU says a peak of 600-650 aircraft will be grounded in the first half of 2024, with the average reaching 350 over the course of 2024-26.
"We have to expect significant burdens on [this year's] reported revenue and earnings figures," says Wagner. The company says its full-year guidance is "subject to reservations" following Pratt & Whitney's revaluation of the situation.
MTU has initiated mitigation actions to assist with offsetting the financial impact, including the establishment of additional maintenance capacity "as quickly as possible", says chief financial officer Peter Kameritsch.
The company will "streamline" capital expenditure plans, prioritising its budgets to "focus on important projects".
Larsen points out that the smaller geared-fan engine programmes are "not affected" and adds that MTU is not wavering from its plans to increase its participation in future geared-fan development to 25%.
He says the geared-fan engine "will be successful in the mid- to long-term", and the company still wants to "be part of that", adding: "You don't change that in two days."