NASA is to end its experimental X-57 all-electric aircraft project without flying the prototype airframe, citing a shortage of time to address technical issues.
But the US aeronautics agency insists the project – which will begin closing at the end of September – has provided valuable research findings on electric propulsion, electromagnetic interference, and airworthiness processes.
"The objective was not to develop a prototype, but to develop a test platform for technologies and design methods," says NASA, adding that it has provided "hundreds of lessons learned".
It unveiled the X-57 Maxwell aircraft, one of a series of 'X-plane' demonstrators, in 2016. Named after electromagnetics scientist James Maxwell, it was developed as a modified Tecnam P2006T which would be powered by 14 battery-driven electric motors. These included 12 high-lift propellers for low-speed operations which would fold to reduce drag when not required.
But NASA admits the closure of the programme "will not incorporate first flight", adding that the project came up against "several challenges to safe flight" – among them late-emerging mechanical issues as well as a lack of availability of critical components for the experimental hardware.
"Given the approaching planned end of aircraft operations, the timeline would not allow the team to reach acceptable flight conditions," it adds.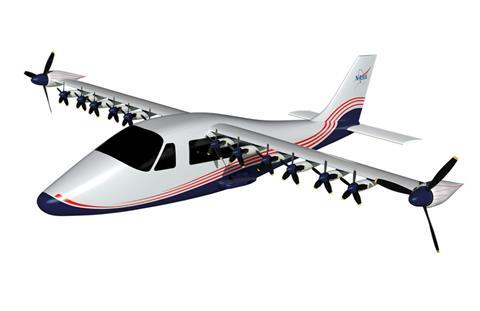 But the agency says the X-57 enabled "revolutionary development" in several fields, including battery technology and cruise motor control. The project has resulted in researchers' documenting technology gaps as well as solutions, in order to advance their application to future programmes.
This technological documentation process will continue for several months after September.
NASA Armstrong Flight Research Center director Brad Flick says the X-57 has provided "foundational information" to the aerospace industry.
"We're seeing the benefits borne out by American commercial aviation companies that are aiming to change the way we fly," he adds. "The future of electrified propulsion is possible because of [the X-57 team's] contributions.
"They did things that had never been done before, and that's never easy."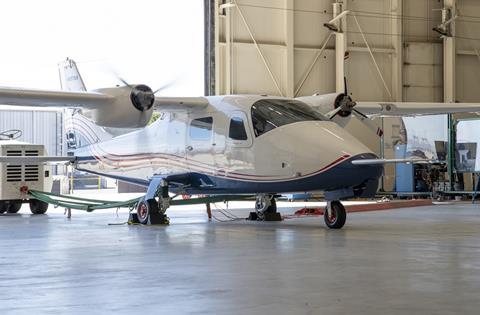 X-57 researchers addressed an overheating problem with lithium-ion batteries, developing a battery system that would have powered the aircraft safely through its entire planned flight profile. The design also avoided thermal runaway by preventing battery-cell contagion. Electromagnetic interference which affected on-board systems resulted in the development of special filters.
Research documentation shows the low-speed lift augmentation allowed for a reduction in the X-57's wing area to 42% of that for the P2006T, which NASA estimated would enable the aircraft to cruise on less than a third of the baseline aircraft's energy. The cruise performance target was Mach 0.233 at 8,000ft.
Various other aspects of the X-57's design have also been analysed, including its ground-handling behaviour.
NASA says the X-57 work will influence certification approaches for electric propulsion in the emerging market for electric aircraft.