Rolls-Royce has increased its civil aerospace workforce by about one-third over the last 10 years, but admits that deep cuts in the sector will be necessary during its newly-unveiled restructuring.
The company employs 26,100 personnel in the civil aerospace sector – accounting for about half its global workforce – with around two-thirds of its civil aerospace staff in the UK.
Given that the overall workforce reduction will amount to 9,000 personnel, and civil aerospace will bear the burden, the UK is likely to be badly hit by the cuts. The Unite union is expecting nearly 3,400 job losses in the UK this year and more in 2021.
There are six primary civil aerospace facilities in the UK, including the Derby headquarters. The company has yet to indicate whether workforce reductions would result in any of these being forced to shut.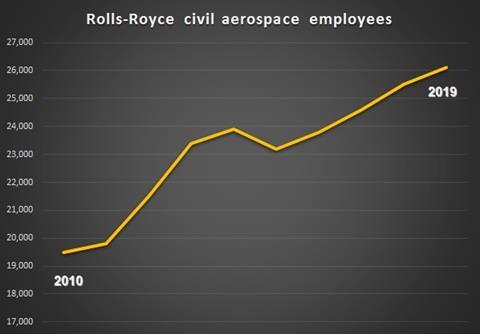 Rolls-Royce says a previous restructuring programme, detailed in mid-2018, will "transition" into the broader re-organisation of the company.
This earlier restructuring emerged as Rolls-Royce was dealing with the fallout from Trent 1000 technical problems as well as the impact of a fraud investigation which had led to a heavy financial penalty.
It focused on simplifying corporate and support functions, with a planned reduction of 4,600 jobs in these areas, mainly in the UK.
Rolls-Royce says this restructuring programme has "substantially delivered on its objectives".
But the new measures will address the core civil aerospace operation which had already been under pressure from a weak long-haul aircraft market. Rolls-Royce is particularly exposed to this weakness because it is not heavily involved in the single-aisle sector.
Although Rolls-Royce delivered 510 large civil engines last year – a record for the company – it had already trimmed its output forecast for this year back to 450 engines, and 400-450 over the medium term.
Rolls-Royce exclusively supplies engines for the Airbus A350, A330neo and competes for business on the Boeing 787. But the coronavirus crisis has wrecked the air transport sector and prompted Airbus and Boeing to slash production rates on all three programmes.
Airbus had also previously opted to discontinue A380 production, for which Rolls-Royce offered powerplants.
Over the first four months of the year Boeing has delivered six Rolls-Royce-powered civil aircraft while Airbus has delivered 17.
Rolls-Royce's main revenue stream in civil aerospace, however, derives from aftermarket services which accounted last year for 25% more underlying revenues for the company – more than €3.2 billion – than original equipment in the large engine sector.
But fleet grounding means the maintenance and servicing business models start to break down and flying-hour receipts begin to dry up.
The impact of coronavirus has been reflected in Rolls-Royce's share price which has fallen by 60% in the three months to 20 May.
Rolls-Royce has furloughed around 4,000 personnel but a government-funded job-retention scheme is only intended to cover the immediate impact of the coronavirus crisis, whereas the air transport industry appears likely to remain crippled for two or three years.
Chief executive Warren East points out that the government "cannot replace" demand that no longer exists.
But he insists: "We have emerged from troubled times before, to achieve incredible things. We will do so again."
The Unite union, unsurprisingly, has expressed shock over the scale of the broader restructuring, and argues that Rolls-Royce should "step back from the brink" and explore alternatives.
"We will be meeting with the company over the coming days to convince them to take a different approach, and pressing the government to step up to the plate to protect our manufacturing base," says assistant general secretary for manufacturing Steve Turner, stating that the UK government should establish a national council for recovery and work with personnel representatives.