Embraer has secured type certification for its E195-E2 regional jet in China, as it progresses discussions with potential Chinese customers.
The move comes close to a year after Chinese regulators certificated the smaller E190-E2, following Airshow China held in November 2022 at Zhuhai.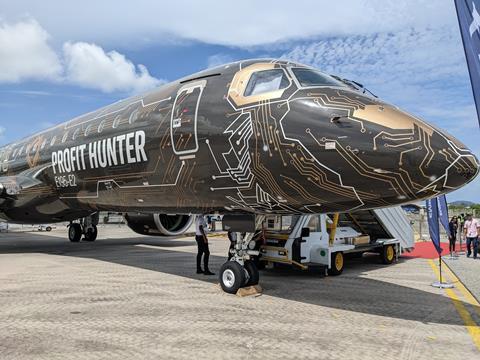 Embraer Commercial Aviation chief Arjan Meijer says the airframer is "making good progress" in discussions with potential customers in China, following the certification of the E2 family.
While he did not name which customers it was working with, Meijer hails the "significant opportunities" in China for the E2 range as it "offers complementary capacity" to Chinese aircraft programmes, the Comac ARJ21 and C919.
Embraer expects demand to increase for aircraft in the segment of up to 150-seats in China, amid a "strong growth rate" projected in the next 20 years.
Embraer China's managing director Guo Qing adds that the E195-E2 "is the right size to profitably complement larger narrowbodies on lower density routes" within China.
While the Brazilian airframer has yet to secure Chinese orders for its E2-family jets, it has 85 older-generation E-jets in operation in the country. Four Chinese carriers – Tianjin Airlines, Hebei Airlines, Beibu Gulf Airlines, Colorful Guizhou Airlines – operate E190s and E195s.
At the Paris air show in June, Embraer signed a letter of agreement with Chinese firm Lanzhou Aviation Industry Development Group for 20 E-Jet converted freighters, in a deal which could see it establish a conversion facility in China.