Boeing has identified a problem with the software on the 737 Max designed to monitor the performance of other systems during aircraft startup, adding another hitch to the Max's return-to-service.
The issue is relatively minor, according to an aviation safety expert, and unrelated to the flight control system implicated as a factor leading to two crashes. Boeing says it is working to fix the problem, which came to light during a final review of the Max by the Federal Aviation Administration prior to certification.
"We are aware of this issue," Boeing says in a 17 January statement. "We are making necessary updates and working with the FAA on submission of this change, and keeping our customers informed."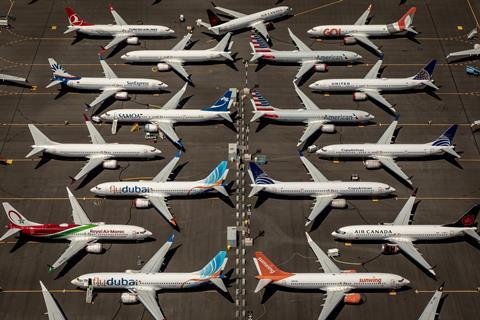 The FAA did not immediately respond to a request for comment.
The issue involves software that monitors various other systems. It ensures those systems properly come on line at startup when electricity is run through the aircraft, either via ground power or using the Max's auxiliary power unit, according to Boeing and sources familiar with the issue.
One of the system's monitors was found to be functioning incorrectly, Boeing says.
John Goglia, an aviation safety expert, former airline mechanic and former member of the National Transportation Safety Board, describes the issue as minor.
He says that if the software system failed to detect an issue with the Max's systems, pilots would still likely receive an indication of that fault in the cockpit.