American Airlines' pilot union is now reviewing Boeing's latest 737 Max pilot training draft – a document the union describes as vastly more thorough than previous drafts.
The Allied Pilots Association (APA) received the draft in the last two weeks, and though the union still has some concerns, it is pleased with many aspects.
"We are in the middle of our review of it. We are not final on anything right now," says APA communications committee chair Dennis Tajer. "We are very positive that there is a lot more information in this draft than we have seen before."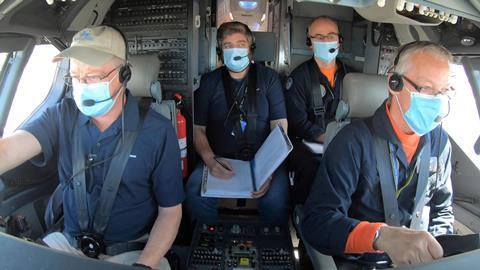 The FAA is the ultimate authority that will set 737 Max pilot training requirements in the USA. The agency has been working with Boeing to develop Max pilot training standards as part of the jet's certification. The Max has been grounded since March 2019.
American Airlines confirms it has received the draft, but says it will not start training until the FAA approves training requirements.
Two other US Max customers, United Airlines and Southwest Airlines, did not respond to requests for comment, nor did their pilots' unions. Boeing also did not respond to a request for comment.
But APA says the documents have been more widely shared.
That sharing shows that "all the stakeholders" are participating in the pilot training discussion, Tajer says. As a result, "none of us will be surprised" when the FAA issues its requirements.
Last week the FAA completed a series of certification flights. A Joint Operations Evaluation Board – a body composed of pilots and representatives from the FAA and other countries' regulators - must still finish a pilot training assessment. Then an FAA Flight Standardisation Board will publish training requirements.
Boeing has said it expects the Max's certification will occur in time for it to resume 737 Max deliveries in the third quarter.
Tajer says Boeing's latest draft includes some 10 documents and 200 pages. He calls it "very detailed", saying Boeing has "indulged" pilots with a host of information about the 737 Max's systems. That represents a change from Boeing's previous insistence that training should not overburden pilots with too much detailed information they will likely never need.
The training calls for about 1.5h of self-study, about 2h of ground-based training and several hours in a flight simulator. Boeing initially said simulator time was not needed for pilots transitioning from the 737NG to Max – that computer training was sufficient. But it reversed its stance early this year.
The draft training reviews Boeing's update to the Maneuvering Characteristics Augmentation Systems (MCAS) – the software implicated as a major factor causing two Max crashes that killed 346 people.
EXPERIENCING AOA FAILURE
Specifically, pilots in a simulator would experience an angle-of-attack (AOA) indicator failure shortly after takeoff. The simulator experience will show that in such a scenario, MCAS will not fire, Tajer says.
By comparison, the two crashed Max suffered AOA failures shortly after takeoff, and those failures prompted MCAS to repeated trim both aircraft nose down.
Boeing modified the system to prevent MCAS from firing if the jet's two AOA sensors disagree by 5.5° or more. Boeing also says its changes prevent MCAS from providing multiple inputs or commanding more stabiliser input than the flight crew can counter by pulling back on the control column.
Boeing equipped the Max with MCAS as a means to pitch the aircraft's nose down because the jet's larger engines could cause nose-up pitch.
Boeing's draft training will also teach pilots about changes, unrelated to MCAS, to the Max's two flight control computers.
Importantly, Boeing's draft beefs up training related to runaway trim, which occurs when the trim system makes uncommanded stabiliser movement.
Boeing, in designing the Max, had assumed pilots would respond to an MCAS activation the same way they would respond to runaway trim, by following the runaway trim checklist.
But the crashes revealed that, in some circumstance, pilots can struggle – or be unable – to manually trim the aircraft using the mechanical wheel in the cockpit. Safety experts have attributed that difficulty to aerodynamic forces caused by high speed.
The updated checklist says both pilots – the captain and first officer – might need to turn the wheel at the same time. Or, one pilot might need to use both hands to turn the wheel – like pedaling a bike with your hands, Tajer says.
One of APA's concerns is that Boeing's draft training does not address another method of getting the manual wheel to turn – the "unloading the elevator" tactic. That involves easing back on the control column, which can sufficiently alleviate forces so that the manual wheel can be turned.
"We like what we are seeing so far," Tajer says of the draft. "From where we were over a year ago, to where we are now, it's night and day. And today is the day."
Story updated, below, on 13 July, to include comments from Boeing.
The airframer tells FlightGlobal it has "shared draft pilot training materials and related information with operators to help facilitate planning for development of their individual training programmes". It notes regulators will approve final requirements.
The draft training, which includes simulator time, would help "provide 737-type-rated pilots with an improved understanding of 737 Max flight control systems, reinforce their technical knowledge of associated flight deck effects and operational procedures, and help restore confidence in the 737 Max".