Electric aircraft company Beta Technologies has shifted to pursue certification of a conventional fixed-wing electric aircraft – while still developing an electric vertical take-off and landing (eVTOL) air taxi.
The US company has for years been flight testing a conventional fixed-wing electric aircraft as part of its eVTOL programme, which had previously been its prime focus.
Now, Beta is using that prototype to develop and certificate an aircraft called the CX300, which resembles its air taxi but which will fly on lift from its wings – not from lifting props.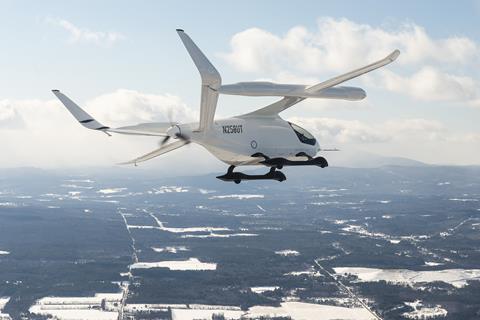 Based in Vermont, Beta revealed the CX300 programme on 14 March, saying the more-traditional design presents a clearer road to certification and a "de-risked… path to commercialisation".
The move comes amid significant uncertainly about the US Federal Aviation Administration's process and timeline for certificating eVTOLs – which are essentially a new and novel class of aircraft.
Numerous industry analysts have also recently described development and operation of fixed-wing electric aircraft as far more conceivable than that of eVTOLs. Conventional aircraft, regardless of their power source, can operate from existing airports and use existing air traffic control systems, experts note.
"With its known certification and operational path, this aircraft represents an opportunity to get electric aviation into the market, and into the hands of our customers, as quickly as possible," Beta chief executive Kyle Clark says.
Beta hopes to have the CX300 certificated and to begin deliveries in 2025.
"This aircraft is already officially in the FAA's certification pipeline," it adds. "With conventional engineering mechanisms, it offers a clearer path to certification and commercialisation than any other aircraft in development today."
Beta says customers have already signed up. Air New Zealand has "declared an intent to order" three CX300s, helicopter operator Bristow Group has "placed a deposit-backed order" for up to 50 and biotech firm United Therapeutics has "added an order" for an undisclosed number of CX300s, the company says.
Until now, Beta had only said it was developing its ALIA-250, a one-pilot, five-passenger winged eVTOL with 250nm (463km) of range. That design has a rear-mounted pusher prop and four lifting props – two each mounted on booms extending from both wings.
As part of that effort, Beta has been flight testing two test aircraft – one with lifting props, one without.
The CX300 is based on the conventional test aircraft, which Beta says has been flying for several years and has logged 40,700km in the air and completed long-distance trips to Arkansas and Kentucky.
During those trips, customers expressed interest in the conventional variant, Beta says.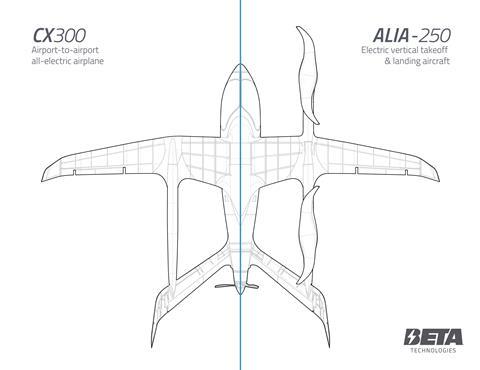 Beta has not disclosed the CX300's specifications, but its body structure is nearly identical to the ALIA-250's.
The CX300 will be ideal for regional flights carrying passengers and cargo, and for medical-related flights, the company says. "It will be a low-operational-cost, high-use aircraft that operators can integrate into their networks immediately."
Beta is still developing the ALIA-250, with the goal of achieving its certification about one year later than the CX300's.
The company plans to manufacture aircraft at a South Burlington, Vermont facility that is "in the final stages of construction", it says.
The path toward achieving certification of eVTOLs – and their likelihood of achieving commercial success – has remained muddled amid regulatory uncertainty and infrastructure challenges. Unlike conventional aircraft, eVTOLs will need wholly new air traffic control systems and new physical infrastructure like landing and charging facilities.
"Just think about the… organisational nightmare of trying to pull together all this infrastructure across jurisdictions, across state lines," BofA Securities financial analyst Ron Epstein said in February. "Not that its insurmountable – but its pretty insurmountable."
For those reasons, some analysts view conventional electric aircraft as having more promise than eVTOLs.
"Using the existing air traffic management system has the best chance to succeed overall," AeroDynamic Advisory managing director Kevin Michaels said in February.