In a regulatory filing to the US Securities and Exchange Commission, Boeing says that its former chief executive Dennis Muilenburg did not receive a severance or separation payment when he left the company late last year, forfeited numerous equity benefits and will not receive a bonus payment for 2019.
The filing, which details salaries and benefits of Muilenburg, new chief executive, David Calhoun, and former chief executive of Boeing Commercial Airplanes Kevin McAllister, was published on 10 January.
Under fire for his handling of the 737 Max crisis, Muilenburg resigned on 22 December 2019. Calhoun will take up his duties from next Monday, 13 January.
"Mr. Muilenburg is not entitled to - and did not receive - any severance or separation payments in connection with his retirement after more than 30 years with the company," the filing reads. "In addition, the Board has confirmed that Mr. Muilenburg will receive no payment under the company's annual incentive plan for 2019."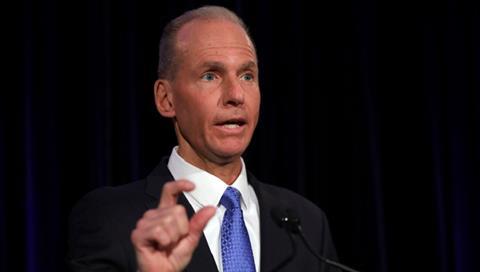 The company adds that Muilenburg also forfeited "restricted stock units (RSUs)", "performance-based restricted stock units (PRBSUs)", and "performance awards" as part of his separation from the company.
"Based on the closing stock price on January 9, 2020, and assuming performance at target for the PBRSUs and performance awards, the forfeited awards would have been valued at approximately $14.6 million, while the vested long-term incentive awards would be valued at approximately $29.4 million," the filing reads.
His pension and other "nonqualified deferred compensation benefits earned during his tenure with the company" are valued at $28.5 million and he still holds options to purchase 72,969 shares that were earned prior to his tenure as chief executive and president of the company. His vested stock unit awards earned prior to his service in the company's two top roles are valued at about $4.3 million. Muilenburg had been with Boeing more than 30 years.
In the same filing, Boeing says that Kevin McAllister, who resigned as chief executive of Boeing Commercial Airplanes on 22 October, forfeited equity components that were valued at "approximately $52.9 million". He received a lump sum cash payment of $14.75 million when he left Boeing to make up for leaving pension benefits from his previous employer. McAllister also did not receive a separation or severance payment, Boeing says.
The new chief executive, David Calhoun, will earn a base salary of $1.4 million, plus various bonus and incentive components which will be earned upon the completion of milestones "including full safe return to service of the 737 Max". The Board also granted Calhoun a supplemental award of RSUs which will take three years to vest, as compensation for benefits forfeited upon his departure from his prior employer, private equity company Blackstone Group.
On Thursday, Boeing released more than a hundred pages of documents to the US Congress which recorded a cavalier attitude toward the certification process of the 737 Max and disdain for aviation regulators. The emails also show a coordinated effort to reject requests from airlines for 737 Max simulator training for their pilots based on the company's belief that the extra training would cost more money and make the aircraft less price competitive against Airbus jets.
Boeing has apologized for the language used, and said the sentiments expressed "are inconsistent with Boeing values".
The FAA has not yet said when it would recertificate the 737 Max, which has been grounded since March 2019 following two fatal accidents that killed 346 people.