Brazilian charter provider Flapper and electric propulsion company Magnix are working to bring electric-powered Cessna Caravans to Brazilian skies in 2024.
The companies on 15 November revealed that Flapper committed to purchase up to 20 of Magnix's 850hp (634kW) Magni650 electric propulsion units.
The companies intend to use the propulsion systems "for the conversion of Cessna Caravans to electric aircraft, with an expected launch date of 2024", they say.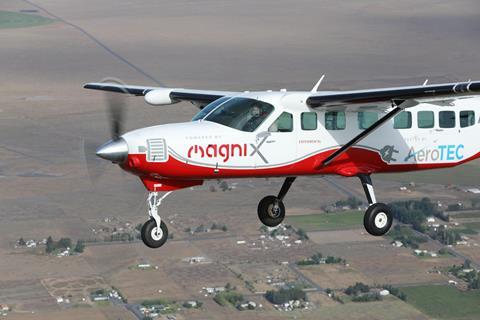 The agreement builds on Magnix's previous work involving electric-modified Caravans. In 2020, the Everett, Washington-based company test flew an electric-powered "eCaravan" in partnership with US aircraft certification specialist AeroTec.
Magnix has also said it is working to certificate an all-electric Caravan for Australian commuter airline Sydney Seaplanes.
Flapper, based in Belo Horizonte, does not operate aircraft but rather sells flights operated by partner companies, including those that already fly Caravans. Flapper intends for the eCaravans to operate "scheduled service in the state of Sao Paolo, as well as cargo flights across Latin America", it says.
As part of their agreement, Flapper will "assist Magnix with planning, reviewing and coordinating all aspects of certification processes," the companies say. "This includes jointly orchestrating the project, providing technical advice and conducting flight tests to show compliance".
The Magnix-AeroTec team completed first flight of their electric-powered 208B Grand Caravan on 28 May 2020. Caravans typically have a single 867shp Pratt & Whitney Canada PT6A turboprop, but the test aircraft had Magnix's 750hp Magni500.
FlightGlobal subsequently reported that, during a test flight, the aircraft suffered an electric problem involving one of its four inverters.
Magnix also worked with Canadian seaplane operator Harbour Air to equip a De Havilland Canada DHC-2 Beaver with an electric propulsion system. That aircraft first flew on 10 December 2019.
Magnix has said that modifying aircraft to have electric systems can reduce operating cost, making short-haul routes profitable for airlines.