EmbraerX, the Brazilian airframer's innovation subsidiary, has spun off its first electric vertical take-off and landing (eVTOL) project, called Eve.
The company says on 15 October that Eve is a "human-centred eVTOL design represents an actual, certifiable product development". EmbraerX has for four years been incubating Eve, which aims to develop an aircraft for the urban air mobility (UAM) segment, and now "graduated" it into its own company.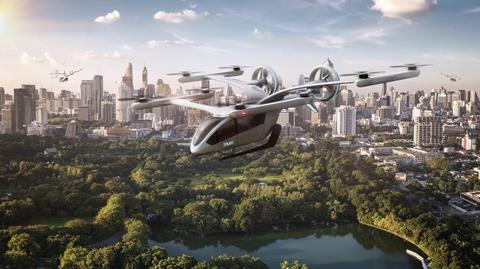 "We value the vast potential of the UAM market, as it represents a new business segment in which we foresee significant opportunities for Embraer. Innovation and diversification are key pillars of Embraer's new strategic plan, which will increase revenue and improve profitability over the next few years," says Embraer chief executive Francisco Gomes Neto.
"Eve stands primed to create a new frontier in transportation with intelligent, environmentally friendly, autonomous-ready aircraft and the associated ubiquitous support and urban air traffic management solutions."
Andre Stein, former head of strategy for EmbraerX, will lead the new company, which is based at Embraer's US location in Melbourne, Florida.
EmbraerX is among aerospace companies within Uber Elevate's network, others being Pipistrel, Bell, Hyundai, Aurora Flight Sciences and Joby Aviation. The rideshare giant has partnered with companies building aircraft which it plans to deploy on its network. Uber is also developing related infrastructure.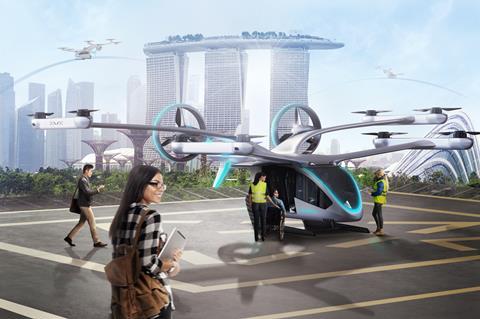 Eve joins a crowded field of potential UAM vehicles fighting for attention, funding, certification and public acceptance. More than 200 eVTOL concepts are currently in some state of development, ranging from start-ups such as Germany's Volocopter and China's eHang, to the world's largest airframers, including Airbus and Bell. The manufacturers have formed dedicated divisions, subsidiaries, or teams looking at urban air mobility solutions.