The president of Emirates Airline is warning the airline industry to not make carbon-reduction promises it cannot deliver.
"People are expecting us… by the end of this decade, to take out 40% of our emissions… We are in la la land if you think we are going to do this," Tim Clark says on 4 October.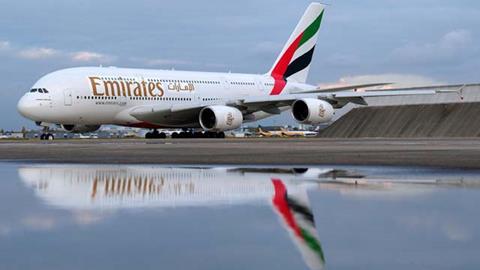 He made his comments in Boston on the opening day of IATA's 2021 World Air Transport Summit. Earlier the same day, at its Annual General Meeting, IATA adopted a resolution calling for the airline industry to achieve "net-zero carbon emissions by 2050".
"If you create the expectation we are going to have electric A380s flying… We have to do something about that," Clark says, adding that the industry must "bring people back to reality".
Much discussion on the event's first day involved carbon reduction. Executives at airframers and airlines pledged their support for carbon-cutting goals, saying the world is emerging from the pandemic with renewed dedication to cleaner power.
But exactly how the industry intends to achieve such change remains largely unclear.
Executives laid out several potential paths – and accompanying hurdles.
"Sustainable aviation fuel – that will [be] a step-function change in the very near term," says Boeing Commercial Airplanes CEO Stan Deal.
"We have planes… that are already certified for [burning] 50%" sustainable aviation fuel (SAF), adds Airbus CEO Guillaume Faury.
SAF accounts for a sliver of the aviation industry's current fuel burn. IATA has set out SAF goals calling for SAF to account for 5% of the industry's total fuel usage by 2030.
Emirates' Clark raised skepticism that sustainable fuel prices can be made economically viable, noting the fuel can now cost two or three times that of traditional fossil-based aviation gas.
IATA suspects that, as SAF production increases, the sector will achieve a "tipping point", after which costs will start declining.
"The next steps are to scale the use of SAF," says Airbus's Faury. "We have a challenge."
Some governments are onboard. A bill now working through the US Congress would provide tax credits to sustainable fuel blenders.
Boeing's Deal says he also supports a "tax credit for consumption" of SAF.
Airbus's clean-energy strategy includes development of a hydrogen-powered airliner for service entry in the mid-2030s. The airframer revealed its hydrogen-aircraft concept last year.
"There are many challenges with using hydrogen," Faury says, citing "engineering work" and the need for a hydrogen supply chain.