This year's Dubai air show stands as a book-end to the deepest and most abrupt crisis ever seen by the commercial aviation industry. Its previous edition – in November 2019 – was the last major gathering before the Covid-19 pandemic hit, and 2021's event will be the first time the whole aerospace industry has been able to congregate since.
That the show is taking place, says Guillaume Faury, Airbus chief executive, is "a very clear, significant signal that [the industry] is on the front foot again".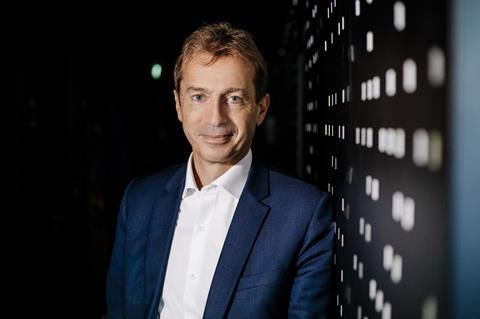 Faury was barely a year into the top job at Airbus when the crisis struck, throwing plans for ambitious rate rises sharply into reverse.
But while Airbus hasn't quite posted a 'Crisis? What crisis?' note on the entrance to its Toulouse headquarters, the talk inside has shifted from cuts and freezes, to manufacturing acceleration, record production rates, new aircraft programmes, and a push towards radical concepts.
Just a couple of weeks before the pandemic engulfed air transport Airbus had foreseen a "clear path" to A320-family monthly build rates of 65 aircraft in 2023, and it is again referring publicly to this target – and potentially higher output – while suppliers, put through the wringer by the downturn, openly question whether the airframer has thought its ambitions through.
"I always sympathise with my suppliers, especially when they're large suppliers," Faury tells FlightGlobal. "But I don't necessarily share their views."
While Airbus is examining monthly rates of 70-75, engine manufacturer Safran, partner in the CFM International venture, and Pratt & Whitney and Collins Aerospace parent Raytheon Technologies have questioned the wisdom of ratcheting beyond 65.
"We're sharing information with them now," says Faury. "They want to know how long rate-70 or -75 would last and how the investment will be made.
"From that perspective, I sympathise. But there's another reason I don't: we see the demand. The demand is large enough to more than justify the ramp-up and the need to go to bigger rates."
Airbus has an A320-family backlog exceeding 5,600 aircraft. "I don't think I'll be backing down," Faury says. "We're assessing, no decision is made. We think the demand is justifying it.
"So we need to decide – what do we do, how we do it, and who wants to support. If some don't – well, noted, that's the market."
Airbus's buoyant single-aisle outlook, which includes increasing output for its A220 line, has yet to be echoed in its widebody business. An expected rise in A350 rates has been pushed back from autumn 2022 to early 2023.
But Faury indicates the Dubai air show could give Airbus a stage to highlight its plan for an A350 freighter, the configuration for which, he says, has been frozen.
"I think it's fair to say we've not been a real freighter player in the widebody market – we touched it a bit," he says. "Here it's a very different approach to the market. We're really serious about it."
Airbus has struggled to produce a successful widebody freighter since ending A300 production. The A330-200F has sold poorly and the cargo A380 concept was dropped. But Faury believes the airframer has correctly judged the demand this time round.
"The reason I believe we did it right is that we did it at the request of customers," he says. "They knocked at the door and said, 'You have a great A350 why don't you do a freighter?'"
Airbus had "reasons to do many other things" at the time, he says. "We looked at it, we realised the market was there…the platform was great for this segment, the timing was the right one because a big wave of replacement was ahead, and there was no real modern platform available for freighters.
"We made detailed studies of configurations and came to the conclusion that the customers who came to us were fully right – that we had a unique opportunity. We wanted to go to a freighter – probably not at that point in time – but we realised that was the right product, the right moment, the right market conditions.
"That's the reason why I think we are going to be successful. The discussions we're having with customers make us very positive."
The A350 freighter will be "very close" to the A350-1000 and developed "mainly from the -1000's bricks", he says: "Not all of them, we'll take some of the -900."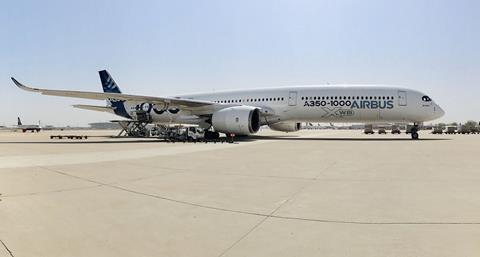 Airbus will aim the aircraft at the "big time" replacement of Boeing 747 and MD-11 freighters, capitalising on twinjet fuel-burn advantage, as well as succeeding older 777s. Faury says the A350 is a more efficient aircraft and, unlike current freighters, will meet new ICAO emissions regulations for 2028.
He is unconcerned about a likely response from Boeing, which has held an effective monopoly in the new-build widebody freighter market. "When we launch a programme, we don't look in the mirror – we try to look forward," says Faury. "Looking forward, you look at the likely products in the market space…[we] don't expect to be alone in that market segment."
Faury acknowledges that some customers are inquiring after an A321neo freighter, but he indicates the airframer's single-aisle priorities, for the time being, are the ramp-up and completing entry-into-service of the long-range A321XLR. With the A350 it already has a freighter "on the drawing board" and "that's good enough for today", he says.
Environmental compatibility is becoming "more and more front-and-centre" of discussions with customers, he says. "It's a trend that is accelerating: airlines, the aviation sector, have realised nobody can escape."
Airbus is re-organising its aerostructures manufacturing operation to prepare for the shift towards future propulsion, having backed the use of hydrogen as a fuel. Although Faury says the airframer will "not stop looking at conventional aircraft", he says it "has to look at new configurations on top".
"Conventional architecture has proven to be super-efficient over the decades, it remains a very strong reference," he says. "But given the changes that will come in the production system, in the energy management on board, in the integration of the propulsive parts – much closer to the airframe – the airframe will play a very different role."
He says the aerostructure will be "the very core" of the product, likening it to the chassis of cars over the evolution to hybrid and electric power.
"The chassis is everything," states Faury. "It's the engine, the chassis is the energy management, the chassis is the [energy] storage, and we see that trend coming. So that's why we're preparing for this.
"We're preparing all the technologies, for the product, and for the production system… to be ready by the middle of the decade."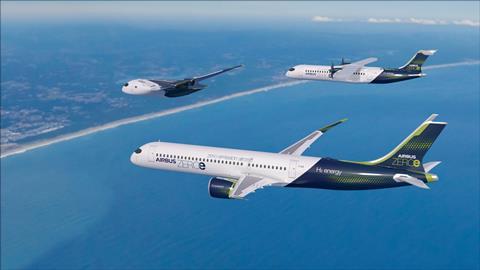 Airbus has yet to determine whether its initial aircraft programme for the hydrogen-fuelled era will essentially be a hydrogen-powered A321, or something more unusual in appearance.
"It's a question we've not yet answered," says Faury. "We've decided to investigate different configurations to be able to assess the strengths and weaknesses, and the pros and cons. And you have to make offsets, have to make trade-offs."
He says the airframer, through its industrial partners, is "learning a lot, day by day, on hydrogen", adding: "When you compare solutions, you have to be completely neutral and fact-based.
"When I observe what has happened over the course of the last two years, our views have changed over time, through the learning. If I tell you something today, I might be proven wrong next year."
Faury says Airbus wants to select a concept with the "best potential", pointing out that it will depend as much on the operational eco-system as the aircraft's technological capabilities.
"If you can find hydrogen at airports only in Western Europe, or in small areas of the world in 2035, there's no point having an aircraft that can fly 3,000-4,000nm."
Airbus, of course, is more than just a manufacturer of commercial jetliners; it also builds military aircraft – whether its own like the A400M, or as part of the Eurofighter consortium – and is the biggest supplier of civil and parapublic helicopters globally.
But these divisions are dwarfed by the size of the commercial operation: in 2019, the final year before the pandemic hit, Airbus Defence & Space generated revenue of €10 billion, 14% of the group's €70 billion total, while the respective figures at Airbus Helicopters were €6 billion and 8.5%.
Nonetheless, the financial performance of both divisions stayed steady during pandemic-hit 2020, even as revenue from commercial aerospace plunged by some €20 billion.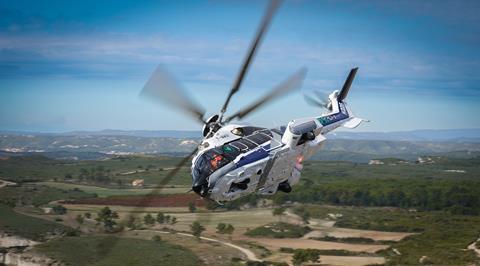 Faury, who cut his teeth at Airbus Helicopters, is quick to insist the division is still an "essential" part of the group, despite its modest size when viewed against its commercial aircraft sibling.
"If you take the small pieces of the group one by one everything is a couple of percent," says Faury.
"Helicopters is an entity that makes sense, that is reliable in its performance, in its contribution to the overall group results."
On top of its financial contribution, Airbus Helicopters also plays a wider role, providing "know-how, technologies [and] leadership development", says Faury.
"It's a good place to develop services and learn from services and then share it with the rest of the group. It's a good place to develop technologies at a small scale, it's a good place to have leaders on smaller projects and then grow on bigger projects."
And thanks to a process of integration begun under former group chief Tom Enders, and continued by Faury, the helicopter business is now more tightly meshed with the whole.
"It's true that as I took the helm of Airbus in 2019 I really wanted to continue along that path, on that journey," he says; as a result "we really behave as one group".
What that means is research undertaken by Airbus Helicopters is no longer solely applicable to the rotary-wing sector, be that development of sense-and-avoid technology or electric power – both vital for urban air mobility (UAM) projects but that will also eventually benefit commercial aviation.
Airbus has recently revealed its strategy for the UAM market, with its CityAirbus NextGen multicopter due to make a maiden flight in 2023, potentially leading to certification around two years later.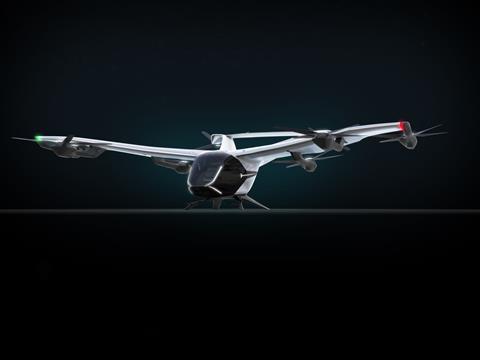 Developers in that segment generally fall into one of two camps: traditional aerospace businesses like Airbus and Embraer on one side, with start-ups – think Joby Aviation or Lilium – on the other; a divide frequently portrayed as slow-moving conservatism versus Silicon Valley-style agility on the other.
Although conceding that Airbus will be a year or two later to market than its rivals, Faury is unconcerned, pointing out that "the same boxes need to be ticked by everyone"; within Airbus the belief is that "we are at the right pace".
Equally, he says the company does not "necessarily need to be the first ones to enter a product into service" but when it does, because it is Airbus, "it has to be the right product".
Besides, for Airbus, the end goal is not just having an e-taxi available, he says: "Some are obsessed by going to market as soon as possible, but we are very serious about the [underlying] technologies, be they for eVTOLs or for other applications in the group."
UAM development serves as "a good sandbox to develop technologies fast at a small scale before we scale up at a later stage on commercial aviation or other products," he adds.
For the defence business, meanwhile, two multi-national development efforts are becoming an area of increased focus: the EuroDrone and the Future Combat Air System (FCAS).
The development contract for EuroDrone, which involves France, Germany, Italy and Spain, is nearing an official launch, having been approved by all the partners save Madrid. Service entry for the medium-altitude, long-endurance unmanned air vehicle is planned for 2029 as Europe seeks to develop a capability previously only available from US manufacturers. Development will be led by Airbus.
That same desire for sovereign capability is the driving force behind FCAS – a sixth-generation fighter, loyal wingman-type UAVs and associated systems – a project initially led by France and Germany, with the pair subsequently joined by Spain.
However, FCAS has not been a smooth ride; the delicate balancing act required to forge consensus between two countries and share work evenly between their industrial champions – Dassault Aviation for France, Airbus for Germany - was upset by the incorporation of Spain, also represented by Airbus, into the project. In particular Dassault, which is leading development of the manned fighter, has frequently voiced concerns around dilution of its workshare and intellectual property issues.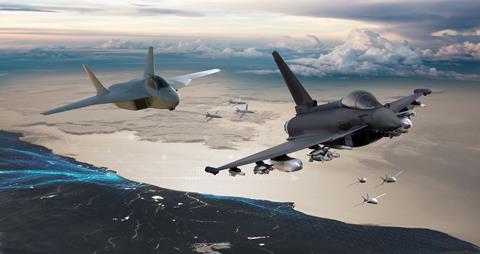 But with contracts signed earlier this year paving the way for phases 1B and 2 of the programme, some level of equilibrium seems to have been reached.
Faury admits there have been "tensions", but says these are to be expected between two ambitious high-tech companies that see FCAS as the key to their future.
"But honestly we have come such a long way together since we started a couple of years ago that it's quite impressive what we are doing between Dassault and Airbus; that is something which in my view is extremely positive," he says.
And rather than rush through an agreement, Faury believes a longer negotiation process has resulted in a contract "that is resilient, that is robust, that is well-structured from the very beginning".
The strategic rationale that underpins the FCAS project – that one country cannot go it alone - has not lessened, he argues, reinforcing the need for co-operation. "To have a European programme, a programme for European countries, we need to co-operate. It's not only a matter of money it's a matter of access to large numbers of engineers, of experts, of specialists.
"No single country is able to put together, to design, and produce an eco-system of that complexity and magnitude. So this is here to stay," he says.
However, with the UK also driving forward with its sixth-generation Tempest project, in which Italy and Sweden are also involved, the question remains whether Europe needs two competing programmes? And if not, might the two later converge?
Faury is not ruling that out. "At a later stage, when it is about facing the volume of investments and the sharing of the product development and the production phase, it's not unlikely that the question will come again and the question will be – can we afford two programmes of this nature in Europe, or are we better off with one?"
That said, it is unlikely to be Faury, or Airbus, that has to wrestle with that problem: "We can contribute to the solution but there will be a decision for politicians to take at a point in time," he says.