Irish airline company ASL Aviation Holdings intends to purchase ten hydrogen-propulsion "conversion kits" for ATR turboprops from start-up Universal Hydrogen.
Lead by former Airbus and Raytheon Technologies executive Paul Eremenko, Universal is developing the conversion kits as part of a broader effort to kick-start hydrogen propulsion for aviation.
Universal ultimately aims to develop a broad hydrogen fuel distribution network – but that necessities hydrogen-burning aircraft.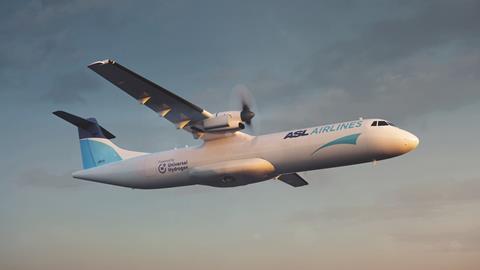 Based near Dublin, ASL "will be a global launch customer for the turboprop cargo market and plans to purchase up to ten of Universal Hydrogen's ATR 72 conversion kits for installation into its existing or future turboprop aircraft fleet", the companies say on 12 October.
They signed a letter of intent to that effect.
ASL also agreed to provide an ATR 72 to Universal for use as a test and certification aircraft, and entered into a "long-term fuel services contract" with Universal.
ASL's subsidiary airlines include "ASL"-branded carriers in Ireland, Belgium, France and Hungary. It also owns South African airline FlySafair and Thailand's K-Mile.
The company's airlines operate some 130 aircraft, including ATRs and Boeing jets, according to Cirium data.
The deal with Universal will allow ASL "to lead the aviation industry as it moves to meet ambitious carbon-emissions targets", it says. Several weeks ago, airline industry group IATA committed to "net-zero" carbon emissions for the world's airlines by 2050.
In 2020, Eremenko revealed he had formed Universal. In September, news broke that Universal is opening an engineering and design centre in Airbus's hometown of Toulouse, France. Eremenko previously had been chief technology officer of Airbus and of United Technologies, a predecessor company to Raytheon.
Airbus has also jumped on the hydrogen bandwagon, disclosing in 2020 plans to develop a hydrogen-powered airliner for service entry in the mid-2030s.
Though hydrogen fuel would be clean-burning, massive infrastructure and technological hurdles must be overcome. Notably, as a fuel, hydrogen must be in liquid form, meaning it must be kept colder than about 250°C (-418°F).