Boeing has delivered the second-to-last production 747 to Atlas Air, leaving the US manufacturer one jumbo jet away from closing out a production programme that has spanned more than five decades.
Atlas on 23 November confirmed it has now received the third of four 747-8 Freighters that it ordered from Boeing in January of last year.
"As we say goodbye to the Queen of the Skies, we're proud of her legacy as an airplane that propelled aviation innovation and later laid the foundation of our family of freighters," says Boeing 747 and 767 programme manager Kim Smith.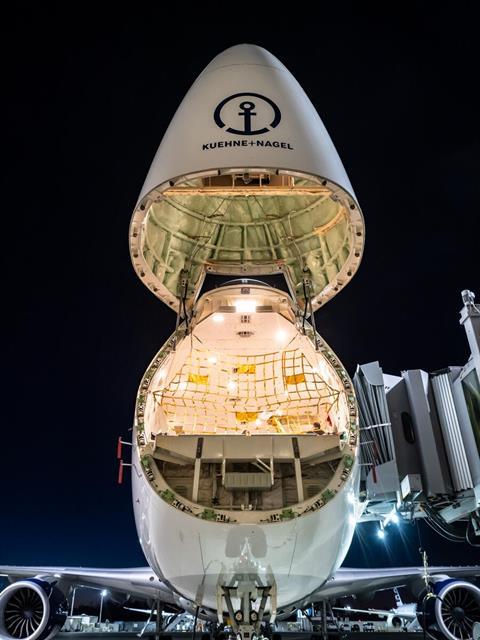 The single remaining in-production 747 – also a 747-8F destined for Atlas Air – is now in the final assembly stage, Boeing says.
Atlas parent Atlas Air Worldwide Holdings said earlier this month it expects to receive the aircraft in the first quarter of 2023. It intends to operate the last two production 747s for Swiss shipping and logistics company Kuehne+Nagel.
Delivery of the last 747 is a bit behind Kuehne+Nagel's previous plan. Earlier this year, the company, which intends to deploy its 747-8Fs on transpacific routes, anticipated receiving the final jet before year end.
Boeing's 747 production line has been winding down for several years. The company in July 2020 confirmed its intention to wrap up 747 production by the end of this year – 53 years after the type's first flight in 1969.
"Our customer commitment does not end at delivery, and we'll continue to support 747 operations and sustainment well into the future," Boeing chief executive David Calhoun said in 2020.
The end of production will free up space at Boeing's Everett site north of Seattle, where it makes 747s, 767s and 777s.
Boeing offered both passenger and freighter 747-8 variants, which are powered by four 66,500lb (296kN)-thrust GE Aerospace GEnx-2B turbofans.
The 747-8F proved popular thanks largely to its ability to carry heavy loads over long distances, such as across the Pacific Ocean. The freighters have 4,325nm (8,010km) of range, capacity to carry 133.1t (293,400lb) of revenue-generating cargo and space for 34 cargo pallets on its main deck, according to Boeing.
Globally, 92 747-8Fs are now in service with carriers including Atlas, Cargolux, Cathay Pacific, Korean Air, Nippon Air Cargo and UPS, Cirium data shows.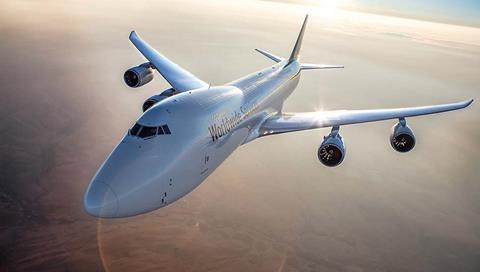 Boeing's passenger variant – the 747-8 Intercontinental, with 7,730nm of range and seating for as many as 410 passengers – proved a lighter seller. The in-service 747-8I fleet now includes 33 aircraft operated by carriers including Air China, Korean and Lufthansa.
Though the 747 programme is ending, Boeing is far from ceding the freighter market. The company has had huge success selling 767Fs and 777Fs. Also, in 2027, it plans to deliver the first 777X Freighter – the 777-8F – an aircraft Boeing says will have 4,410nm of range and be capable of carrying 112.3t of revenue-generating cargo.
Boeing engineers conceived the 747 in the 1960s, when airlines were clamouring for jets with transoceanic range and twice the capacity of the single-aisle 707s and McDonnell Douglas DC-8s that then plied North Atlantic skies, Boeing senior corporate historian Michael Lombardi told FlightGlobal in 2019.
The first 747 took off on its maiden flight more than 53 years ago, on 9 February 1969. The 747 proved a remarkably enduring aircraft, remaining in production even as Airbus started, then stopped, producing the larger A380, a type many thought would kill off the 747.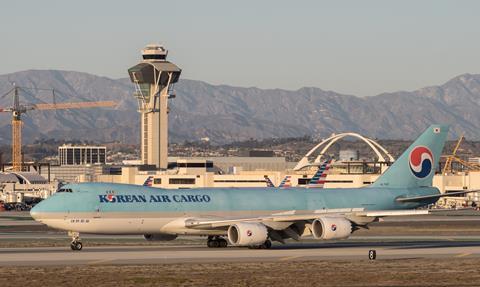 Boeing began delivering 747s in December 1969, when it handed two 747-100s each to Pan American World Airways and TWA, according to Boeing's data.
It has since delivered 1,571 747s of five major variants: 250 747-100s, 393 747-200s, 81 747-300s, 694 747-400s and 153 747-8s.
Airlines globally still operate 400 747s. Most are 747-400Fs and 747-8Fs, though a handful each of older variants remain in service, as do two VC-25As (the 747-200-based jets known as Air Force One) and four 747-200-based E-4B US command and control aircraft, Cirium shows.
Story corrected on 29 November to state that the VC-25A presidential jet is based on the 747-200, not the 747-400.