Supply chain trouble and a shortage of pilots in the US are holding back Embraer's aircraft deliveries, though executives insist the company will still hit its 2022 shipment targets.
"We are still suffering from the supply chain a lot, especially for engines", Embraer chief executive Francisco Gomes Neto says on 14 November. He also cites shortages of aircraft-interior components.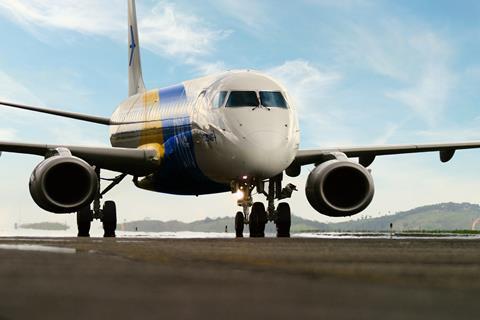 Gomes Neto spoke the day Embraer reported a $41 million loss in the third quarter of 2022 – a slight improvement from its $46 million loss in the same period of 2021.
The company generated $929 million in third-quarter revenue, down 3% year on year.
Citing supply chain issues and a pilot shortage, executives say Embraer will likely close 2022 having delivered about 60 of its E-Jet commercial aircraft. That figure is still within its previously disclosed 2022 forecast of 60-70 E-Jet shipments this year.
Likewise, Embraer now expects in 2022 to deliver about 100 business aircraft – also on the floor of its 100-110-aircraft guidance.
Gomes Neto says supply chain issues are "still ongoing" and have forced Embraer to make recent changes to its production schedule. He expects Embraer will remain constrained by component shortages throughout 2023, with improvement in the second half of next year.
"The situation will normalise completely only in 2024," Gomes Neto predicts.
Embraer is not alone; companies throughout the aerospace industry have seen production hampered in recent quarters by parts shortages.
Embraer's E-Jets E2 are powered by PW1900G geared turbofans made by Pratt & Whitney, which also produces, in much higher volumes, PW1100Gs for Airbus A320neo-family jets.
P&W and competitor CFM International, which makes engines for A320neos and Boeing's 737 Max, have reported production shortfalls caused partly by lack of sufficient quantities of cast-metal engine components.
Also speaking on 14 November, Embraer commercial aviation CEO Arjan Meijer says a pilot shortage in the USA is "affecting" E-Jet deliveries to US customers. He thinks the issue will ease in 2023 or early 2024.
US regional airlines have struggled in recent years with too few pilots, and executives at some carriers have attributed route cuts and aircraft groundings to that problem. Last week, Embraer revealed that US regional airline Republic Airways cancelled orders for 31 E175s, though neither company has disclosed why.
Though Embraer officials predict the company will still meet its goals of delivering 60-70 commercial aircraft and 100-110 business jets in 2022, the company must significantly ramp its delivery pace to do so.
In the first nine months of 2022, Embraer delivered 27 E-Jets and 52 business jets, its figures show. The company says "deliveries have been back-ended to [the fourth quarter] due to supply chain challenges".