Australia's competition regulator has once again weighed in on the long-standing spat between Regional Express and Qantas, warning that it could "take enforcement action" if an airline is found to be anti-competitive.
In its quarterly report on domestic airline competition, the Australian Competition and Consumer Commission (ACCC) says it is investigating Rex's complaints about rivals Qantas and Virgin Australia.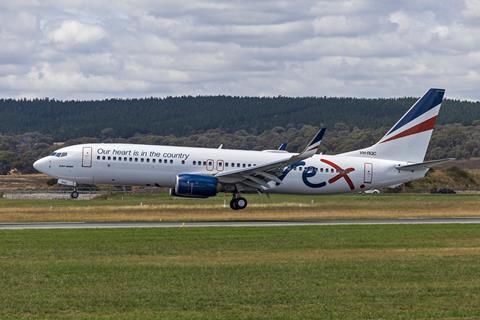 Chief among Rex's claims was that Qantas, its low-cost unit Jetstar, as well as Virgin Australia are dumping capacity on the Sydney-Melbourne route, on which Rex is a new entrant.
Rex began jet operations with a Boeing 737-800 on the highly-competitive route in March. This sparked a price war between the three airlines, with the ACCC noting that fares on the route have hit its lowest point in a decade.
Rex had previously also filed claims against Qantas' expansion into the regional market, stating on various occasions that certain routes, with low passenger numbers, cannot support more than one operator.
In its latest report, the ACCC says that it is "watching for behaviour that may be interfering with the ability of airlines to compete on certain routes and/or across their broader networks".
The commission notes that adding capacity to a route to meet increased demand — and offering discounted fares — "is consistent with effective competition and is generally good for consumers".
"However, the ACCC will consider taking enforcement action if an airline's capacity or pricing practices have the purpose, effect or likely effect of substantially lessening competition," it adds.
The report points out that Rex's entry into mainline domestic operations has increased competition on the domestic network.
"Rex's entry provides benefits to consumers in the form of additional frequency of services, choice of airline and downward pressure on prices," the commission states.
The ACCC's latest comments marks a shift from its previous sentiments. In its competition report for the quarter ended 31 December, the commission also responded to what it had called the "public allegations" about the Australian flag carrier.
Among other things, it noted then that "competition appears to be increasing, not decreasing".
The ACCC's "heightened concern" has understandably been hailed by Rex, which has long groused about its larger rivals.
In a separate media statement issued following the ACCC report, Rex says it "is determined to stand its ground and will pursue all legal remedies to ensure that Qantas is brought to task for any illicit behaviour".
Reiterating claims that Qantas was "technically insolvent", Rex's deputy chairman John Sharp adds: "Understandably, Qantas is desperate to kill off Rex as it knows that it will have no chance against Rex once the latter is fully established in the domestic market.