Czech Airlines has filed for reorganisation under insolvency regulations as "the last option to save the company" unless it receives government financial support.
CSA says its application to a court in Prague was necessary because an extraordinary moratorium has ended and "all possible solutions to resolve the challenging financial situation" have been exhausted.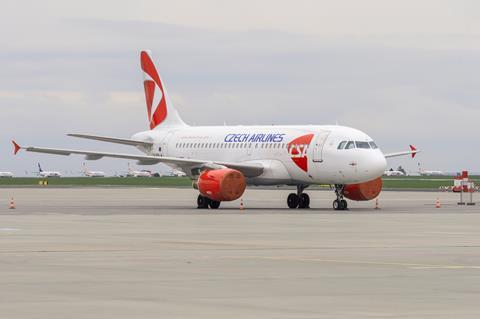 All scheduled flights of CSA and its parent carrier Smartwings will continue without interruption.
CSA says its "payment reputation was challenged significantly" by the pandemic, and laments "unequal and unfair competition" owing to a lack of government support.
"Despite recommendations of the European Commission and the International Air Transport Association, CSA did not receive any financial support from the government, as opposed to its direct competitors," the airline asserts.
Smartwings and CSA have asked the government to provide financial support to cover around nearly 7,200 flight cancellations when operations were suspended between March and May 2020.
Additionally, CSA says that it and Smartwings have since August been asking the government to implement a dedicated air transport support programme similar to schemes in other sectors, and complains: "The Czech state refused to participate in the rescue of CSA… despite the fact that the shareholders declared their readiness for financial support to CSA."
CSA argues that Smartwings plans to merge the two airlines under a "common concern solution" will "lead to their rescue and is more favourable for the creditors".
The SkyTeam carrier adds: "The proposed reorganisation is the last option to save the company, unless the approach of the Czech government is reconsidered."
More than staff 600 contracts have been terminated amid wider restructuring, CSA notes.
As a result of the pandemic, the airline suffered a Kc1.57 billion ($73 million) annual loss amid a 20% revenue decline, it says.
Cirium fleets data shows that Czech Airlines has one Airbus A319, one A320, one Boeing 737-800 and five ATR 72-500s. The turboprops are listed as being in storage. The carrier has four A220-300s and three A321XLRs on order.
CSA says it was scheduled to receive new aircraft from Airbus in late 2020, and planned to launch long-haul flights.
Its A320 and 737 are managed by lessor BBAM. Three of the ATRs are managed by ASL Aviation Group and the other two by Nordic Aviation Capital.
Smartwings has 27 737NGs and seven 737 Max 8s. Then of the 737-800s and six Max jets are listed as being in storage. Smartwings has another 21 Max 8s on order.
All aircraft in Smartwings' existing and on-order fleet are, or will be, leased. The lessors include AerCap, Air Lease, BBAM, Carlyle Aviation Partners, GECAS and Macquarie AirFinance.