Middle Eastern carrier Emirates has backed away from its refusal to co-operate with newly-imposed London Heathrow capacity limits, following a meeting with the airport's operator.
Emirates had been infuriated by the airport's request that airlines stop selling tickets for the summer season in order to cap daily departing passengers at a manageable level of 100,000.
The Dubai-based carrier retorted that evidence for the strong rebound had been clear and claims its own preparation efforts have included rehiring and training 1,000 Airbus A380 pilots.
Emirates stated that it was prepared to defy the capacity-cap instruction, believing its passengers were unfairly having to bear responsibility for Heathrow's inability to cope with the post-pandemic surge in travel demand.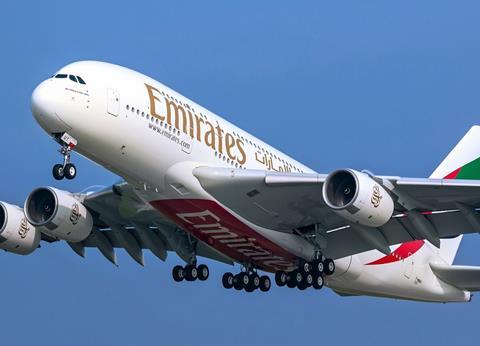 But the two sides held a "constructive" meeting on 15 July, they say, and the carrier has shown willingness to work with the airport's operator to "remediate the situation" over the next two weeks.
This includes Emirates' capping further sales on its flights out of Heathrow until mid-August. Heathrow's capacity cap is due to run until 11 September.
The carrier adds that it is "working to adjust capacity", without elaborating, to assist the airport with keeping capacity in line with demand and provide a "smooth and reliable" journey through Heathrow over the summer.
Emirates says it will continue to operate its flights from Heathrow as scheduled in the meantime, and passengers will be able to travel as booked.