Etihad Airways chief executive Antonoaldo Neves believes supply chain challenges are likely to remain an issue impacting aircraft availability for the next two or three years, as the Abu Dhabi carrier embarks on its third decade with a fresh growth vision.
Neves was speaking to journalists at the Dubai air show from on board a soon-to-be-delivered Boeing 787-9, which is on the static display at the show. "There are no planes in the market. I would love to be flying this plane, but it's not delivered yet," he joked. "I need the planes."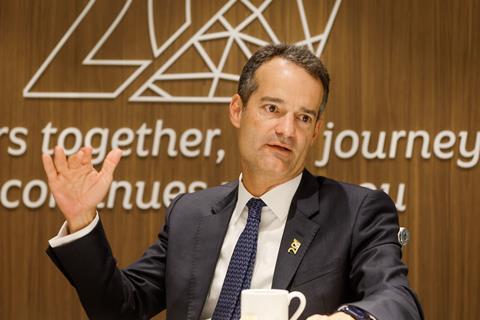 To help meet that capacity shortage, the airline has just brought back the third of four Airbus A380s it is deploying on its Abu Dhabi-London Heathrow route. "It was great to bring them back," says Neves. "Customers love it. It's important [because] I need the planes.
"It's getting really hard to get a plane, and that has a consequence for the entire supply chain, for seats, for parts," he adds. "That for me, if I had to pick one big challenge, is how can I address that supply chain problem… which is going to last for two, three years more, because there is a lot of demand but our ability as an industry to provide what we need is not there."
It is an issue for Etihad because the carrier has returned to growth after a period of consolidation, in part from the unwinding of its equity-alliance strategy and then from the Covid pandemic.
"Now I think we have the right size and we have an opportunity to grow again," says Neves. "The plan is to double the size of the fleet in the next seven years; the plan is to get to about 33 million passengers in the next seven years.
"We have a clear mandate from the shareholder. And the mandate is very simple. Deliver extraordinary customer service and at the same time, make money."
He adds: "We are in a region where GDP is growing at least 5% every year, and … aviation usually grows two times [as fast], at least. So I don't see any reason we cannot grow 10% per annum over the next seven years."