Indian domestic operator Spirit Air has tentatively signed for six Britten-Norman Islander turboprops, with which it intends to establish a regional network.
The Bengaluru-based company was set up in 2008 and had been conducting charter flights with light Cessna aircraft.
But it has been seeking authorisation to carry out scheduled services.
Britten-Norman says the operator has signed a letter of intent to purchase six new BN2T-4S Islanders.
The manufacturer says the type is undergoing validation in India.
Spirit Air will initially receive four factory-refurbished Islanders to allow the operator to accelerate services, while its new aircraft are being produced.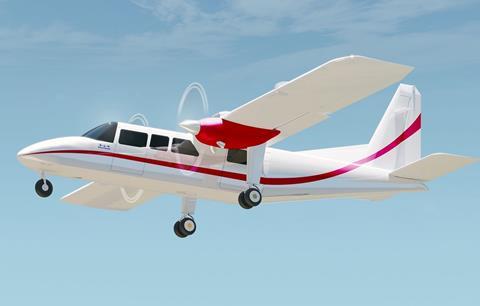 Britten-Norman will build the Islanders at a new UK facility.
Spirit Air will use the twin-turboprops to provide regional connections between main airports and more remote and municipal locations.
Managing partner Subodh Verma says the commuter operation will include services from "short, grass airfields".
"We will help make important resources available, and we will fly our customers safely and efficiently even where the conditions are difficult," adds Verma.
Britten-Norman technical director, and head of design, Mark Shipp says Spirit Air will be the first operator of this specific Islander model – the largest variant, with an extended cabin – which will have enhanced capabilities including Garmin avionics and flight-into-known-icing instrument capabilities.
He says the Islander has a "long-established history" of Indian operations, and says the durability of the aircraft makes it "highly suitable" for conducting flights to "semi-prepared" locations.