Malaysian regional operator SKS Airways has committed to taking 10 Embraer E195-E2 regional jets from lessor Azorra, making it the type's first operator in Southeast Asia.
The commitment, announced during the Langkawi International Maritime and Aerospace (LIMA) exhibition, will see the first E195-E2 delivered to SKS from 2024. The regional jets, which are configured to seat 136 passengers, will be based at Kuala Lumpur's Subang international airport.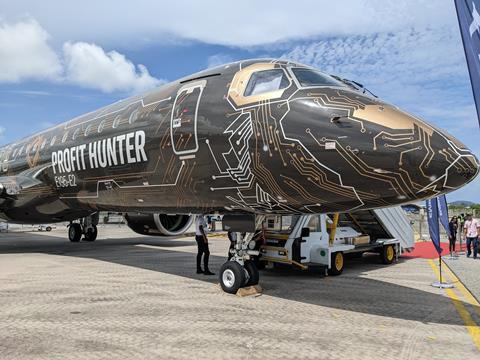 SKS, which launched commercial operations in January 2022, says the E2s "will form the core" of its expansion plans from Kuala Lumpur.
According to Cirium fleets data, the airline has a fleet of two Viking Air DHC-6-300s and operates them from Subang to the islands of Redang and Tioman off Peninsular Malaysia's eastern coast.
SKS director Rohman Ahmad says: "[We] are excited to embark on a new phase of growth, with a fleet of Embraer's Jets operating out of Subang. The prevalence of the E-Jets at city airports around the world and the low noise emissions of the E195-E2 makes the aircraft a perfect fit for flights in and out of Subang airport."
His comments come as Malaysia unveiled plans to redevelop Subang airport – located south of Kuala Lumpur – into a city airport that will see the return of jet aircraft operations.
Under the Subang Airport Regeneration Plan, the airport is expected to be able to handle up to 8 million passengers a year, a significant increase from present passenger numbers.
The latest commitment makes SKS the second Southeast Asian – and first Malaysian – customer for the E2 programme. The Brazilian airframer in mid-February netted a lease commitment for nine E190-E2s, from Singapore-based low-cost operator Scoot.
Separately, Embraer states that it has signed a a long-term agreement with SKS for the maintenance of the E195-E2 fleet. Under the agreement, SKS will have access to a parts pool programme, which includes component exchanges and repair services for more than 300 repairable parts.