Malaysian start-up MYAirline will launch twice-daily flights to Bangkok from end-June, marking its foray into international operations more than half a year after it launched.
In a social media post on 10 May, MYAirline will operate one flight a day each to Bangkok's Suvarnabhumi and Don Mueang airports from 28 June and 1 July respectively.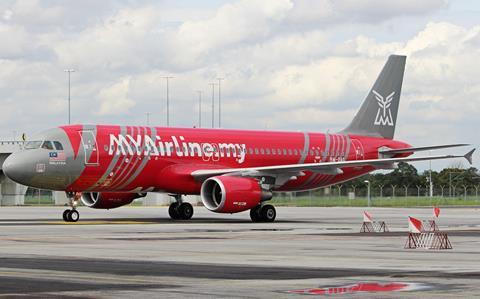 It will be the second carrier to operate to both airports from Kuala Lumpur, after low-cost rival Thai AirAsia.
MYAirline is likely to face stiff competition on its international debut: on flights to Suvarnabhumi airport, Malaysia Airlines has more than 30 weekly flights, while Thai Airways International has two daily flights. Thai AirAsia operates daily flights between the two airports.
On its Don Mueang flights, MYAirline will take on low-cost heavyweight AirAsia, which has eight daily flights. Thai AirAsia, meanwhile, has twice daily flights, with Batik Air Malaysia flying 15 times weekly.
The latest announcement comes as MYAirline took delivery of its seventh Airbus A320. The airline began operations in late 2022 after receiving its Air Services License from Malaysia's regulators, and is headed by airline veteran Rayner Teo. Its domestic network comprises points in Peninsular and east Malaysia, including Miri, Kota Kinabalu and Langkawi.