Prospective UK long-haul start-up Global Airlines is intending to configure its Airbus A380s with 450-470 seats, and initially operate to New York JFK and Los Angeles from London Gatwick.
The would-be carrier is promising a three-class service – first, business and economy – as it looks to obtain an air operator's certificate this year ahead of starting flights in summer 2024.
It would commence operations with a pair of A380s, with a preliminary configuration intended to speed its entry before upgrading the interior cabins to their final full layout.
"We're a lot further along that you think," founder and chief executive James Asquith told an audience during a Global Airlines event in London on 27 July, stating that two years of work were behind the project.
"We haven't just gone out and bought a bunch of A380s."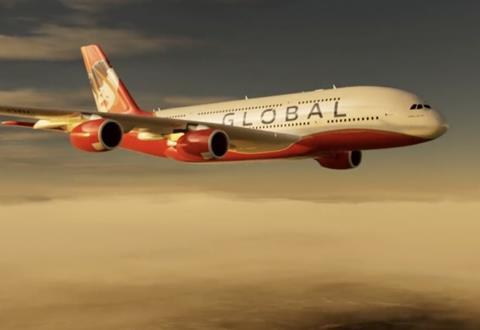 Asquith says Global Airlines is the culmination of a long-held ambition to revive a higher standard of air travel, capitalising on his background in airline finance.
He claims to have flown with 284 airlines – "that's a lot of product research" – and argues that the A380 is a highly-efficient aircraft if it is used "properly".
The company recently claimed it has reached terms of agreement for three more A380s, on top of an earlier agreement for a single aircraft. It indicates that the three latest aircraft are stored in the USA.
Global Airlines believes it will have a "compelling" product that will attract passengers, even with competition from other transatlantic operators from Gatwick including Norse Atlantic, British Airways, Delta Air Lines and JetBlue Airways.
Asquith acknowledges that the transatlantic market is "littered with failed carriers", but insists: "We're doing it very differently."
He took the opportunity during the event to reveal a newly-agreed partnership with American Express. "It's been an exciting ride and it will get a lot more interesting," he says.