A £180 million ($248 million) subsidy from the UK government to stimulate sustainable aviation fuel (SAF) production in the country has been broadly welcomed by the industry, although it is calling for the government to do more to lower the price of the fuel.
Contained in its Net Zero strategy document, published today, the government says it will "accelerate the commercialisation of UK sustainable aviation fuels" and "will be supporting UK industry with £180 million funding" to assist the development of SAF plants.
The government is additionally consulting on the introduction of its proposed SAF mandate, ahead of a second round of industry engagement next year.
Welcoming today's announcement, Sustainable Aviation – a coalition of airlines, aerospace manufacturers and airports – says the ambition for aviation is a "substantial step forward".
"In particular, the £180 million funding to support the development of [SAF} plants will play an important part in making usage at scale a reality."
It says the UK has the "right skills, infrastructure and feedstocks to lead the world in SAF commercialisation", cutting emissions and creating thousands of green jobs.
However, it adds: "A UK SAF mandate can also work but only if the supply exists and if fuels are affordable, which is why in addition to today's positive announcement we need the right policies, such as a price mechanism, to bridge the price gap between SAFs and fossil jet fuel, and for these to be announced as early as possible."
That view was underlined during a panel discussion on 18 October, which was held to mark the official opening of GKN's new global technology centre in Bristol on 18 October.
Emma Gilthorpe, chief executive of the UK's Jet Zero Council, a public-private imitative, called for greater government intervention to kick-start the sector.
"We know how to make sustainable aviation fuel; this is about scale and price. How do we get to a position where it is readily available and economic for passengers and airlines to fly? That's the conundrum we need to solve," she says.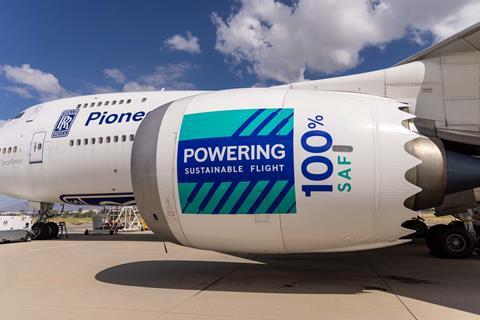 Gilthorpe points out that other technologies, such as renewable energy, have a clear investment case, including an identifiable return on capital, something the SAF industry lacks, she believes.
"We need investors who are prepared to choose [SAF] rather than other very investable propositions," she says.
A price stability mechanism would help achieve this, she says, alongside clear commitments from the government and refining industry.
The scale of the problem was laid out by Russ Dunn, chief technology officer at GKN, who points out that all the planned investments in SAF over the next decade will only deliver around 4-5% of the total volume required by the industry.
Paul Stein, his counterpart at Rolls-Royce, says that "the market won't appear naturally, you have to force it into being" whether through a blending mandate or fuel subsidy. "The market needs to be stimulated by regulation," he says.
But he believes the industry will "find ways of drawing down the price", potentially through new means of SAF production.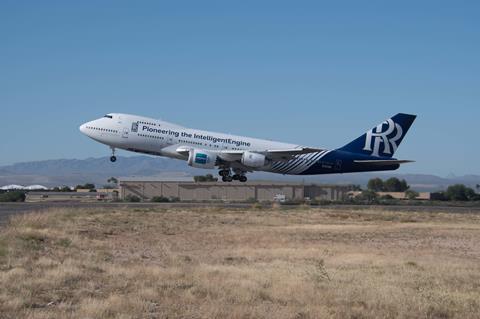 Rolls-Royce recently announced that all its engines will be qualified to run on 100% SAF by 2023. Its Pearl business aviation engines and Trent XWB for the Airbus A350 have already been flight tested on 100% SAF, and today were joined by the Trent 1000.
Installed on the engine manufacturer's Boeing 747 flying testbed, the powerplant carried out at successful 3h 54min sortie from Tucson airport in Arizona running solely on SAF. The jumbo's remaining three RB211 engines ran on standard jet fuel.
"Initial indications confirm there were no engineering issues, providing further proof of the fuel's suitability for commercial use," says Rolls-Royce.
The majority of commercial engines are qualified to run on 50% SAF blends. Trent 1000s are an option on the Boeing 787s.